5 Kitchen Must-Haves for Home Cooks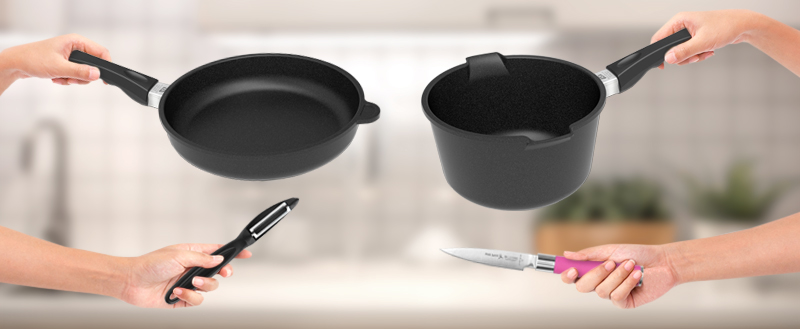 "It's the little things." This statement holds true in life, love, and the kitchen. Many times, the details make the most significant difference. While no one would pass up a beautifully designed, custom home kitchen, without the proper tools and accessories to make your meals, you may as well be cooking on a hotplate! For a fun and functional experience, you'll need a few kitchen must-haves on hand.
Aspiring and seasoned foodies alike enjoy treating themselves to high quality kitchen tools since it feels like an indulgence every time they're put to use—a plus when we've been cooking at home so much.
You might think you already have your bases covered when it comes to pots, pans and cooking gadgets, but here are five of the best kitchen tools—tried, tested and approved by the Food Supplies' staff—to put on your wishlist.

AMT Saucepot
AMT kitchenware is already known for its superior non-stick, easy-care surface that makes cooking and cleaning easy, but it's the dual spout that sets this pot apart from the others. If you've ever tried to drain beef, pour sauce or serve soup, you'll know the mess that can ensue when you're using a pan without a spout. Having two prevents dripping and spills by conveniently allowing you to pour or drain no matter which way you're holding the pot.

AMT Frying Pan
If you only invest in one frying pan, this all-purpose AMT pan should be your top contender. Just over 9 inches (24 cm), it's the perfect size for most recipes, and the 2 inch lip keeps food from spilling out during preparation. Made from cast aluminum, the pan is warp-resistant, warms up evenly and retains heat for an even cooking experience. Just like the AMT saucepot, it's professional calibre and can go from stovetop to oven, making it a super versatile addition to your kitchen.

F.Dick Paring Knife
A chef's knife is a foodie must-have, but don't overlook the paring knife. A kitchen workhorse, it's perfect for small jobs and can be used to cut, slice, trim and peel produce. Try that with one of your larger knives! Like all F.Dick blades, this paring knife is German engineered, designed for superior performance and edge retention qualities over a lifetime of use. Plus, the pink handle makes quite the statement in your kitchen.

F.Dick Peeler
F.Dick makes more than just knives! If you've been searching for the perfect peeler, your hunt is over. It's time to get rid of the generic one you bought at a big box store. This peeler has a serrated edge to make quick work of peeling anything, even tough jobs like butternut squash. And it goes without saying that the blade is made of the same quality construction and materials as F.Dick knives, so you know it's made to last.

Profboard Private Series 670
It's time to reinvent the board—the cutting board, that is. This Profboard offers an innovative take on improving food handling safety and increasing efficiency in the kitchen. It comes with a baseboard and three interchangeable plastic sheets in different colours. You can easily switch between the sheets when cutting various types of food by designating a food category for each colour (i.e. red for raw meat, green for vegetables, black for ready-to-eat items)—no need to wash the board in between. And to make things even easier, the sheets are dishwasher safe!