A Guide to Cake Decorating Ideas

For over a year now, our occasions, holidays, and events have been marked quietly, with little fanfare. We've participated in countless virtual parties and pared-down celebrations with only the closest of family. Sadly, in some cases, we may have even let special dates pass by without any recognition.
With the weather getting better and caseloads hopefully continuing to drop, we can start looking forward to finding safe ways to get together and enjoy a summer of community, possibly starting even as early as Canada Day.
We believe these future get-togethers call for cake! Many foodies may know their way around a good dinner recipe but find baking intimidating. Our advice? Find a basic, foolproof cake recipe and decorate your baked confection to impress. It's often the simplest recipes that taste the best, anyway! Practice with some basic cake decorating ideas and use your newfound skills to wow your guests, using pastry bag tips and other techniques to create some truly jaw-dropping designs.

You'll need to start by prepping your canvas—or in this case, your cake. Baking a good cake requires accurate measurements, so eliminate confusion with converting units by using Food Supplies' durable measuring cups and spoons. For quick recipe conversion, choose a cup that displays both imperial and metric units. To be extra precise, a scale can help you measure your ingredients by weight.
Once your cake is ready, make sure it has thoroughly cooled before you start decorating. Some experts even suggest freezing the cake first, so it's firm and easier to work with. Level your cake by using a serrated knife to create a flat surface (we like this F.Dick knife for a clean cut, without creating excessive crumbs or crushing your pastry). Removing the domed top portion will give your cake a professional, uniform look and makes it easier to stack if you are making a layer cake.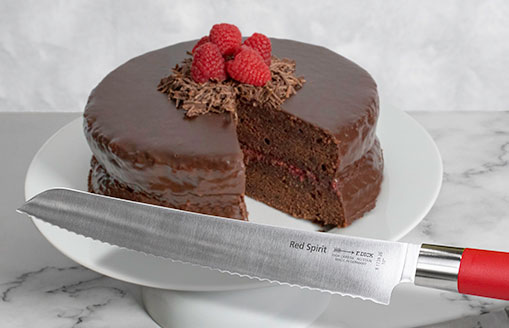 Friedr. Dick 10-inch Red Spirit Bread Knife

Your second step? Apply a thin layer of buttercream icing to "seal" the cake and create a smooth surface. If you're new at cake decorating, we would suggest using buttercream exclusively since it's very forgiving compared to the other types of icing. You can simply smooth away the error and try again! Like before, it's ideal to cool the cake first before applying another, thicker layer of icing using a spatula. Use an icing scraper (which removes the excess icing and levels the cream) after you're done to create an extra flat finish.

Decorate the Cake Using a Pastry Bag and Tips
Finally, the fun part! Food Supplies offers a large range of pastry bags tips of different sizes and shapes to create your masterpiece. One simple, beginner-friendly idea involves covering the cake with alternating red and white starbursts, using a star-shaped pastry tip for an eye-catching Canada Day-themed design. You can also try your hand at piping your own design or message using a fine pastry tip. Pastry brushes can add texture to your icing without painstaking work.
Another technique? Just use fruit! Strawberries are a favourite, and the bright red colour works perfectly for the occasion. Arrange in sliced berries in the style of a Canadian flag or maple leaf.
However, you choose to decorate your cake, it's sure to be a crowd-pleaser. Enjoy your delicious and beautiful cake after a BBQ or outdoor picnic!