Easy Breakfast in Bed Ideas for Mother's Day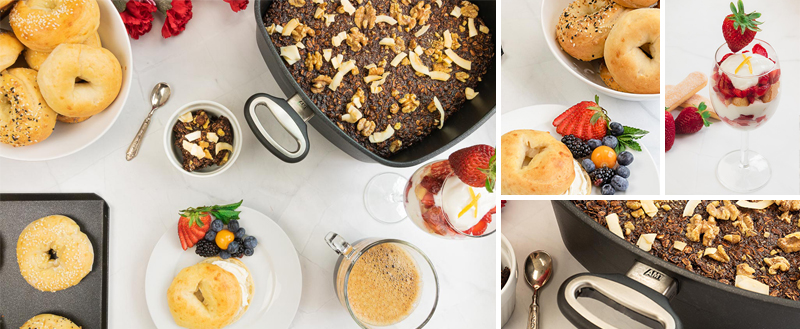 PHOTO: NICHOLE KELLY
Everyone knows that moms play a vital part in keeping their families going. Whether she's a working mom, stay-at-home mom, or a combination of both, mothers play many roles in the home. And adding to that, many of their tasks are invisible ones. They often take on the mental load of appointments, lists and logistics needed to manage the needs of everyone in the house.
This past year has posed a new and unique challenge to moms everywhere. Many mothers have spent the past 12 months juggling their work and household responsibilities while trying to manage their children's schooling and care.
For families that have chosen to do online school, it means providing tech support, monitoring the kids to ensure their on-task, and playing the role of an educator as well as a parent. For those who have chosen in-person school, it means contending with the constant disruptions of cancelled classes and sick children that must stay home or require health testing.
Moms are full of love for their families, but there's a lot of pressure on them, particularly now. Even simple pleasures for special days like a dinner out, a celebration with extended family, or an appointment for a massage are all off the table.
So this year, treat the special mom in your life to a Mother's Day breakfast in bed and a morning to relax and look after herself. We've rounded up a list of quick and kid-friendly breakfast recipes, ideal for little hands and short attention spans, won't keep mom waiting or make a huge mess in the kitchen.

Baked Chocolate Coconut Oatmeal
3 cups of old fashioned rolled oats
1 1/4 cup of sugar
3/4 cups of cocoa
1 1/2 cups unsweetened coconut
1/4 tsp of salt
1 tsp baking powder
1 cup of chopped walnuts
2 large eggs
2 cups of milk
1 tsp of vanilla extract
Walnuts (optional)
Mix all ingredients in a bowl and pour into a casserole pan.

(We like

this AMT pan

for its non-stick properties and how easy it is to clean. Plus, it can go straight from stovetop to oven for maximum versatility).

Add walnuts on top.

Bake for 30 minutes or until the centre appears almost set, which produces a soft oatmeal. For a drier and more solid baked oatmeal, bake until centre has set completely.

Wait 5 minutes and serve warm.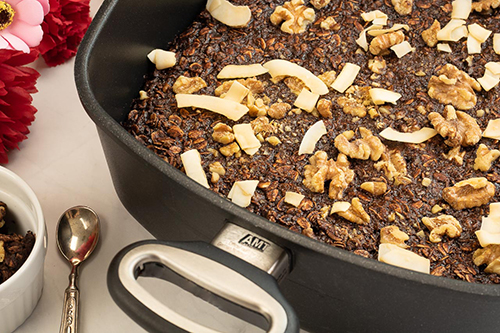 PHOTO: NICHOLE KELLY

2 cups of plain Greek Yogurt
2 cups of self-rising flour
1 egg for egg wash
Sesame seeds (optional)
Poppyseeds (optional)
Everything bagel seasoning (optional)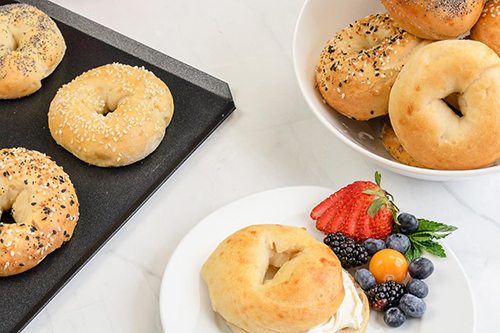 PHOTO: NICHOLE KELLY
1. Preheat oven to 350°F
2. Mix yogurt and self-rising flour in a stand mixer using the dough attachment for 6 minutes or until dough is smooth and no longer sticking to the bowl. If after 5 minutes the dough is still too wet, add 1 TBS at a time of self-rising flour.
*alternatively, you can knead by hand until dough is formed and smooth.
1. On a lightly floured surface, form dough into a ball. Divide dough into 8 equal parts.
2. Roll each segment by hand into an 8" rope. Join each end together, pressing firmly to create a bagel shape.
3. Using a non-stick baking sheet like this AMT version or a baking sheet covered with parchment paper, place each bagel on baking sheet.
4. Brush top of each bagel with a beaten egg. Top with your favourite bagel toppings such as poppyseed or sesame.
5. Bake for 30 minutes. If tops are not brown enough, broil in a 500-degree oven for an additional 2 minutes.
6. Allow to cool slightly and serve.
7. Bagels freeze well. Allow to cool completely and slice bagel before freezing. Pop into toaster from frozen if desired.

Strawberry Cheesecake Yogurt Parfait
1 cup of vanilla Greek yogurt
1/2 cup light cream Cheese
Lemon zest
2 cup of strawberries
Juice of 1 lemon
1 TBS of honey
6 ladyfingers (chopped) or 1 cup of Vanilla granola
In a blender, mix yogurt, cream cheese and lemon zest (refrigerate until ready to serve.

Chop 2 cups of strawberries, mix with the juice of 1 lemon and 1 TBS of honey. (refrigerate until ready to serve)

Chop 6 ladyfinger cookies into small pieces.

Assembly: alternate layers of ladyfingers (or vanilla granola), strawberries and yogurt mixture
Serve immediately and enjoy!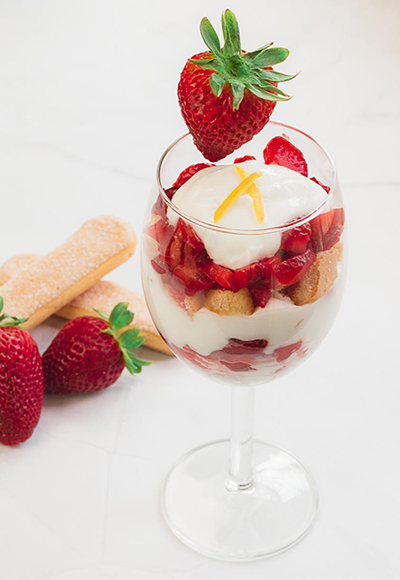 PHOTO: NICHOLE KELLY

While these recipes will turn out well no matter what you use, we've tested them on our exclusive line of AMT cookware, known for their superior and durable non-stick that's also dishwasher-safe. For the perfect stay-at-home Mother's Day gift, consider upgrading Mom's old cookware for a practical indulgence she'll use every day.