Meatloaf Program

We are always working on the next exciting ingredient offering. These meatloaf profiles are still in the concept phase.
Speak to a Food Supplies customer service representative for more information on these profiles: 1-800-387-1098


Festive Filipino Style Meatloaf
Description
This festive Filipino meatloaf is also know as "Embutido." Featuring a perfect sweet and savoury balance with carrot, red and green bell peppers, garlic and onion followed by a note of sweet pickled vinegar.

Chef Tip
Get creative with this sweet and savoury profile. Try adding other ingredients to the mix like sweet pickle relish, cheese, pineapple chunks, sliced pimiento or fresh bell peppers. Commonly made with ground pork it also works well with a beef and pork mixture. Best served with traditional white rice or pilaf.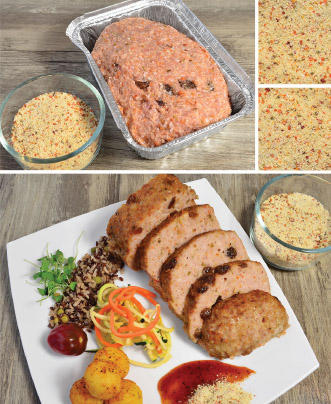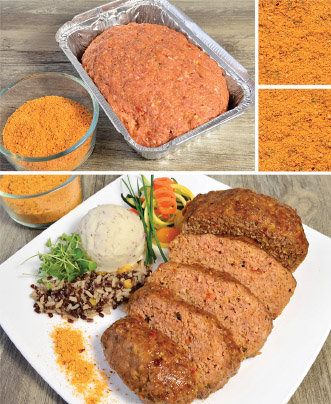 Black Forest Meatloaf
Description
This Black Forest meatloaf is truly a unique specialty food and a staple commonly found both in South-Germany and Austrian street food stalls. This profile provides warm traditional flavours of nutmeg, marjoram, sweet paprika, garlic and onions, followed by smoky bacon, sweet red pepper and white ground pepper.

Chef Tip
This is a loaf best served in thick slices. Serve a 3/4 inch slice with creamy scalloped potatoes, steamed vegetables and a warm gravy, topped off with a seasoned mustard.

Swedish Style Meatloaf
Description
A perfect comfort food bursting with flavours of warm nutmeg, allspice, green and white onion, followed by a hint of cinnamon and ginger. This is sure to become a family dinner favourite.

Chef Tip
The incredible versatility of this profile allows you to work with multiple proteins. Traditionally, this recipe calls for beef, or an even mix of both beef and pork. But, you can also try an even mix of beef and chicken, or pork and chicken. These combinations provide a lighter colour while maintaining the full flavours of the warm spice blend.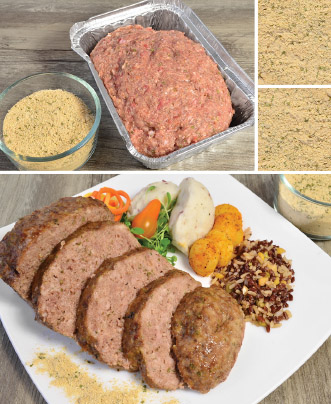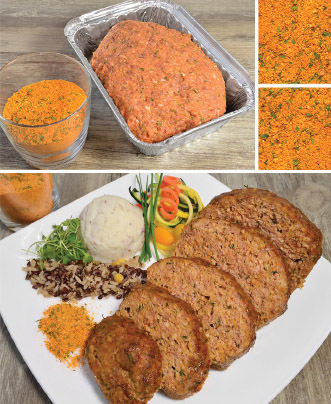 Louisiana Style Meatloaf
Description
An authentic southern Louisiana-style meatloaf with a bold, spiced oak barrel chipotle flavour, cayenne pepper, vinegar, garlic and sweet onion.

Chef Tip
Overall this profile is an incredible flavour! The perfect balance of mild vinegar notes and cayenne pepper bring out the flavours on any protein. An even mix of pork and beef, or pork and chicken is recommended. Add bacon to achieve that smoky note that everyone loves. Best served with a creamy mash or scalloped potatoes, along with roasted vegetables.

Moroccan Style Meatloaf
Description
This superb meatloaf is flavoured with a classic Moroccan spice blend of sweet paprika, cumin, cinnamon, coriander, cayenne, ginger, mint, cilantro garlic and onion. Includes sprinkles of dehydrated celery and carrots.

Chef Tip
This incredible profile is commonly made with a beef/lamb mixture, but it is versatile enough to work well with pork, a beef/pork mix, or ground turkey with raisins and fresh onions. Best served with a side of couscous, sautéed vegetables or a classic rice pilaf.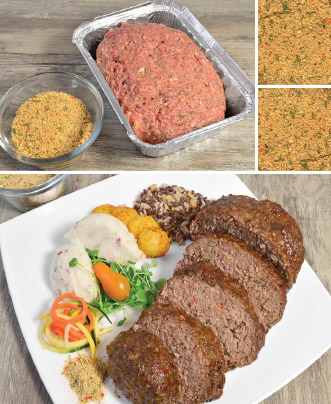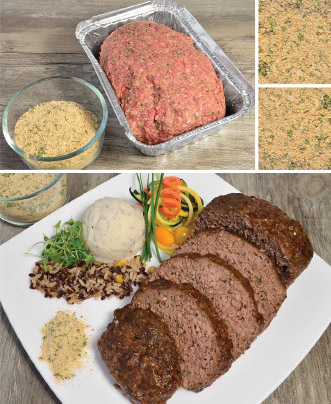 Persian Style Meatloaf
Description
Persian cuisine is commonly known for incredible flavours, colours and history, all of which is captured in this fantastic meatloaf profile. Featuring a delicate blend of tomato paste, parsley, lemon, ground allspice with a mild buttery cinnamon garlic note.

Chef Tip
Include some diced red and green bell peppers with parsley for added colour and freshness. For the perfect paring, serve with sweet potatoes and sautéed green vegetables.