Innovative Design


ScanBox is well suited for the demands of challenging work environments. Designed for back and front of house, ScanBox blends into any environment due to its clean, stylish design. ScanBox helps you transport food with proper control. Our boxes maneuver easily thanks to their aluminum material construction which is conveniently low weight.
Sleek And Classy In Any Environment
From large commercial kitchens to elegant serving stations, the ability to bring your ScanBox into any environment and simply blend in, saves you on time, staff, and money. Our innovative design offers multiple advantages in comparison with more traditional boxes for cold and hot food holding and transporting.
> Designed for back and front of house.
> Blends into any environment.
> Saves steps, time, and money.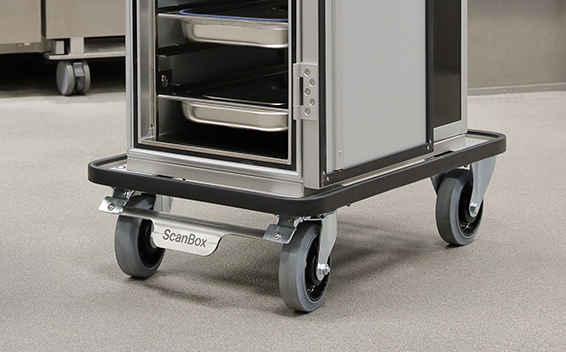 Equipped For The Challenge
From a nursing home, to a staff canteen or a Michelin-star restaurant, any environment produces unique set of challenges. ScanBox is equipped with wear-resistant materials and protective components to sustain over time in the toughest of environments.
> Protective chassis and top frame – robust in tough environments.
> Sides made in glass fiber reinforced plastic – absorbs everyday shocks.
> Verified 10 years heavy-duty truck transports – tested by third party.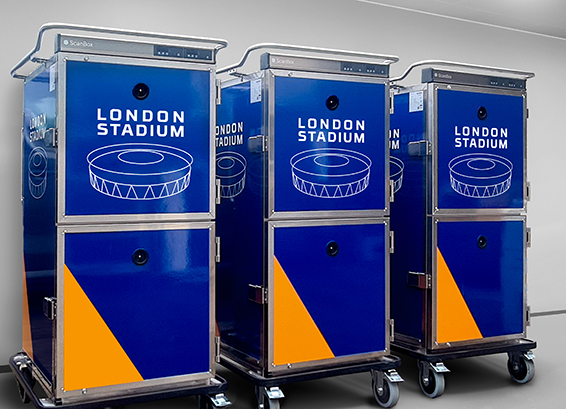 Add Your Own Custom Branding
Did you know you can make your ScanBox an extension of your own brand? Stand out from the rest by personalizing your ScanBox with a professional vinyl art wrap. This can help transform your ScanBox into a smart and eye-catching marketing tool.
> Make your ScanBox a billboard on wheels.
> Advertise on the go, in any environment.
> A professional vinyl wrap is quick & easy to install, and is simple to update the artwork later, as needed.
> Or, create a sleek and more subtle design to help blend into any environment.

Ask us about how you can custom brand your ScanBox.
​Get a custom quote today:
1-800-387-1098 or sales@foodsupplies.ca