Friedr. Dick Knives, Sharpening & Tools

Food Supplies is proud to feature the world renowned cutlery of Friedr. Dick. Since 1778, Friedr. Dick has been manufacturing Chef's and Butcher's tools and knives, sharpening steels and grinding machines, and building a solid reputation as the Chef's and Food Professional's Choice. Their extensive cutlery and ancilliary product lines make them the perfect system provider for the Food Service, Restaurant, and Butcher industries alike.

TRUSTED QUALITY SINCE 1778
Steeped in tradition since its founding in 1778, Friedr. Dick is one of the most successful knife manufacturers in the world, with its headquarters in Deizisau, Germany. More than 240 years later, Friedr. Dick is still family owned.
Represented in 80 countries around the world, every Friedr. Dick knife is made of the highest quality steel, with perfectly balanced blades, and ergonomically shaped handles for perfect cutting results. Strict quality criteria and high design standards characterize the traditional brand for professionals, which is now finding its way into domestic kitchens everywhere! You deserve to 'UP' your game and equip your kitchen with the very best from Friedr. Dick knives.

WHY F.DICK KNIVES ARE DIFFERENT
Features
Trusted and preferred brand among professional chefs, butchers, and foodies around the world.

One of the most successful knife manufacturers globally (240+ years in operation).

Knives are made of the highest quality metals, recognized as the best in the industry.

Perfectly balanced blades which help with precision and ease of use.

Ergonomically shaped handles, providing comfort and reducing hand fatigue.

Benefits
Investing in quality F.DICK knives helps save you money longterm, as there is no need to constantly replace your cutting tools, as you will with cheaper knives.

Using better quality knives makes tasks like cutting, chopping and slicing easier and safer.

Working with quality knives also improves your sense of skill and brings pleasure to the overall cooking expiereince, which reflects in the food you make.

F.DICK has developed unique knife designs, like the 1905 series, which not only look stunning in your kitchen, but are also popular gift options for all professional and aspiring chefs.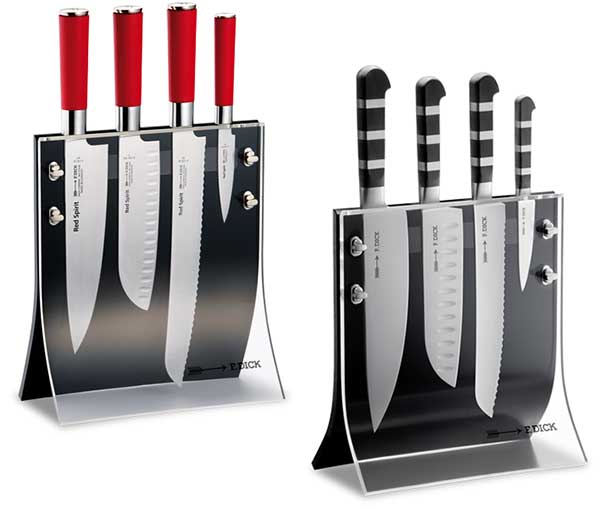 ESSENTIAL KNIVES FOR ANY HOME OR PROFESSIONAL KITCHEN
We recommend these essiental knives for both home use and for any professional kitchen, as they meet all needs for the preparation of the ingredients that go into a great meal.

Paring Knife
Small, versatile and sharp. The paring knife is an indispensable tool with a wide range of uses in the kitchen. For peeling, small cutting jobs and embellishing.
Boning Knife
For extracting bones, removing fat and cartilage. Thanks to its flexible blade, this knife slices exactly where you want it to, removing neither too much nor too little.
Utility Knife, Serrated
The blade's serrated edge is perfect for cutting bread and cake, removing crusts or peeling fruit and vegetables.

Chef Knife
The classic chef's knife is the heart of every professional kitchen. Your most important helper for the widest variety of tasks, including: chopping herbs, cutting vegetables, or gutting and carving meat and fish.
Carving Knife
The smooth cutting edge and thin blade easily cut roasts, meat and ham into perfectly thin slices, while minimizing the loss of the delicious juices.
Santoku, Kullenschliff
The Japanese classic for vegetables and meat, characterised by its thin blade with a tapered cutting edge. The knife's Kullenschliff keeps what you are cutting from sticking to the blade.

CHOOSE YOUR KNIFE SERIES
Friedr. Dick offers exceptional quality knives for all ranges of applications and budgets. Learn about our entry-level Pro-Dynamic series, to our highest end, premium 1778 series knives. Whether you're a home cook or a seasoned culinary professional, you will find the knives and tools that are perfect your for your kitchen.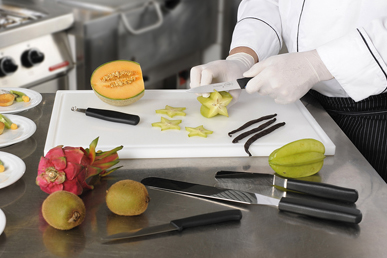 Pro-Dynamic
Honest quality at a lower price!
Professional and uncomplicated. With the Pro-Dynamic series, working in the kitchen is even more fun! You can choose between a wide range of different knife shapes to suit your cutting tasks.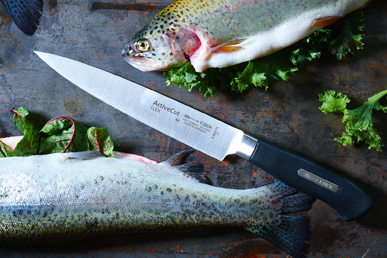 Consistent, clear and durable quality that you can feel. Are you looking for a forged knife that will allow you to immerse yourself in the world of cutting techniques, cooking creations and flavour explosions? ActiveCut is the right series for you.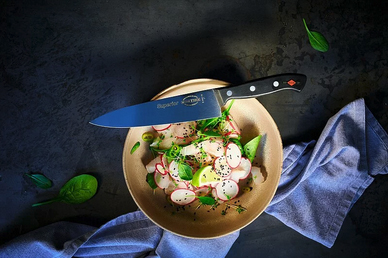 A lightweight knife featuring a classic design with handle rivets. With the Superior knife series, Friedr. Dick has succeeded in combining a functional, modern knife shape with a traditional handle design. The result is a classic knife series of truly exceptional quality.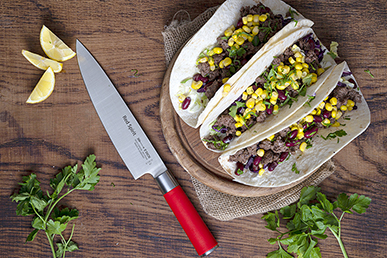 Passionate. Uncompromising. Extraordinary. The Red Spirit series combines Asian craftsmanship with the virtues of German quality workmanship. The clear but striking design will make your Red Spirit knives a real eye-catcher in your kitchen.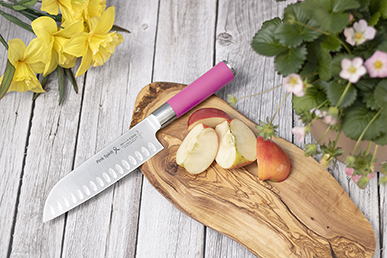 Bring colour into your kitchen! The pink version of the popular Spirit series will bring colour and optimism into your everyday life. Proceeds from the sale of each Pink Spirit series knife go to support women's cancer research.

Classic. Perfected. Timeless. Trusted by professionals world-wide, the Premier Plus series knives are known for their exceptional quality and effortless cutting. Give your creativity free-rein to prepare exciting dishes, with the ease and comfort you deserve.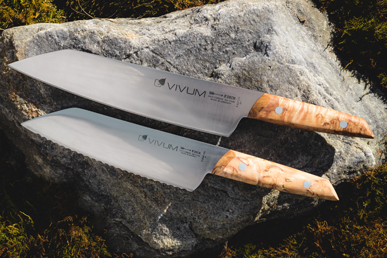 The unique power of nature combined in a new knife series – VIVUM. These unique knives combine a natural appearance with extreme sharpness. An elegant and specially shaped birch wood handle comes together with the highest quality knife steel and a modern blade design. The birch stands for life, strength, durability and reliability.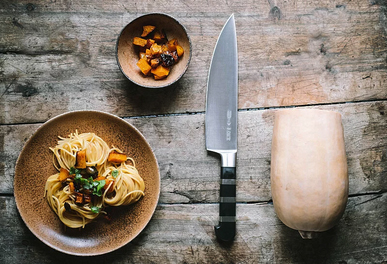 Exclusive. Modern. Unique. The year 1905 was one of radical change and technical progress. During this year, Friedr. Dick created a knife handle design to feature (3) solid collars, instead of traditional rivets. With the 1905 series, Friedr. Dick developed truly unique knives that clearly stood out from all previous designs.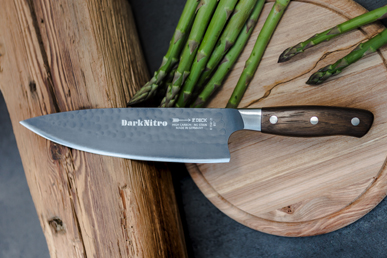 Visually stunning hammer-embossed blades with a carbon look, and handles made of valuable, indestructible oak wood. Featuring an exceptional hardness of 61 HRC and special corrosion resistance on the blades. DarkNitro knives are forged in a special process and then ice-hardened at temperatures down to -197°. The robust oak wood handles make each piece unique with its own colour character and wood grain.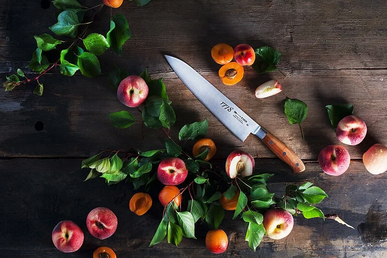 1778 Series
Our most premium knife series
Precious and elegant. This knife series reflects F.DICK's history like no other. The year 1778 is the founding year of the Friedr. Dick company in Esslingen, Germany. The handles and cutting edge of each and every 1778 knife are forged by hand by F. DICK craftsmen.
EXPLORE THESE F.DICK PRODUCT CATEGORIES
SELECT FROM OUR EXTENDED PRODUCT CATEGORIES
PROFESSIONAL CUTLERY SETS
FoodSupplies provides professional cutlery at wholesale prices, with the fastest shipping throughout Canada. Whether it's a culinary bag or an F Dick knife sharpener, we have chefs and foodies covered in all of their cutlery needs. We are proud to feature the world-renowned cutlery of Friedr. Dick, which has been manufacturing Chef's and Butcher's tools, knives, sharpening steels and grinding machines since 1778. Their extensive cutlery and ancillary product lines make them the perfect system provider for the food service, restaurant, and butcher industries.

PROFESSIONAL KITCHEN CUTLERY FOR BEST PERFORMANCE
Our professional kitchen cutlery offers superior performance and helps to create an innovative experience in the kitchen. Discover designs for professional users that meet their high demand needs and offer quality at a lower overall cost.
Hygienic cutting tools are known to work great for professional work environments and deliver top quality for fatigue-free work. Discover key features such as ergonomically formed handles, various finishes, safety colors, balanced designs, exceptional sharpness options, and more.


ORDER YOUR PROFESSIONAL CUTLERY TODAY
You will be pleased to know that FoodSupplies offers a wide range of professional kitchen cutlery, all available for online orders.

Explore products such as the Friedr. Dick Premier World Chefs Series knives which are made with a hygienic coating and a precious "Mother of Pearl" handle. The high-quality coating on the blade helps to resist materials from sticking and helps to make cleaning easier.
You might also look to discover F. Dick knife sharpener options, which facilitate in sharpening your knives in house, saving you money and keeping you in control of your tools. and polishing steels that have various finishes. Choose from a wide variety of handle colors and options for sharpening depending on your specific needs.
Your product journey doesn't stop at knives and sharpeners, explore cutting boards, shears, spatulas, blade guards, peelers, and sets of block and gift items! Order a culinary bag to carry and transfer all of your professional cutlery from location to location.
Try out our professional kitchen cutlery for chefs and foodies today! Browse F Dick Knives, cutting boards, ancillary items and many more!