Profboard
A Cutting Board Like No Other. Helps Reduce Cross Contamination.
Produced in Germany and Denmark since 2006, Profboard cutting boards are used by chefs world-wide. Made from food safe materials, Profboard's unique design features help to reduce cross contamination during food prep.
The 'click system' is a creatively integrated design feature that allows you to replace the cutting surface by pulling away a top layer sheet and then clicking back into place. Replacing the cutting surface sheets during your food preparation reduces the risk of bacterial growth and cross contamination.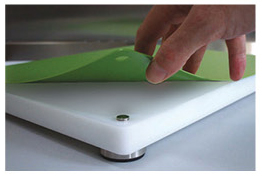 Sheets Are Available In The Following Colours: