Transform Your Foodie Kitchen With Three Essential Knives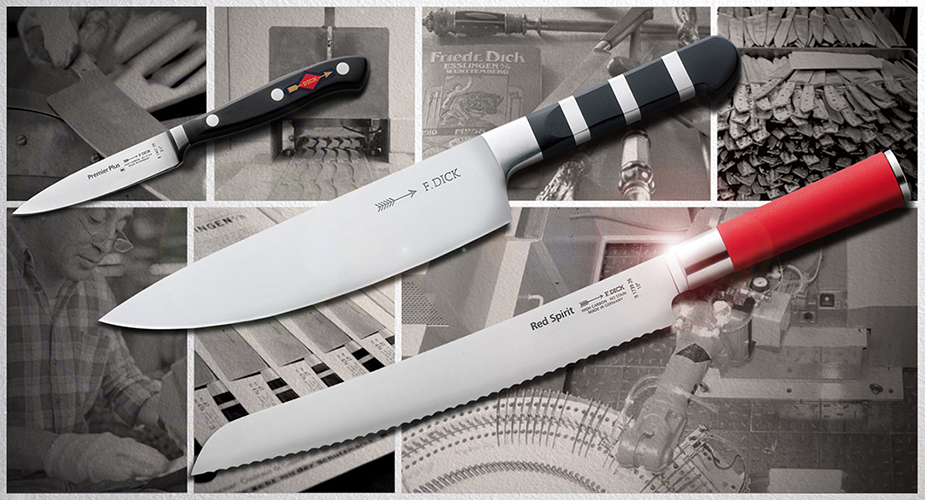 If you spend a lot of time in the kitchen, you know the importance of having quality tools on hand. Whether they be pans, pots or utensils, well-made implements are a pleasure to use and enhance your overall cooking experience.
A home chef's must-have? Good knives – they're essential in any foodie's toolkit to make clean and precise cuts time and time again. If you're making do with a set from a big box store, you're probably already aware that they don't quite measure up. Lower quality knives are usually made of soft steel that dull quickly, require constant upkeep and have poor cutting performance.
If you're ready to bring your culinary exploits to the next level and invest in chef-calibre blades, consider these three knives by F. Dick as your introduction. Founded in Germany, F. Dick has been in the knife making business for over 130 years and produces some of the best knives you've never heard of. Used by professional chefs and cooking schools all over the world, F. Dick blades are designed in Germany and made of hard, high chromium steel to keep their cutting edge for longer.

F. Dick Chef Knife (1905 Series 8.5")
Modern chef's knives are built for almost any job. They can mince, slice, chop, core and carve, making them a kitchen necessity for the serious foodie.
If you're in the market for an all-purpose knife, the F.Dick Chef Knife is a solid choice. While the knife's function has been updated with modern technology to keep it on point, its design has stayed consistent since the early 1900s, making it a true classic. The 8-inch stainless steel blade is the perfect length for home cooks to manage with ease, and its eye-catching, collared design makes it look as good as it cuts.

F. Dick Paring Knife Premier Plus 3.5"
Paring knives have shorter blades to make them easier to handle for small jobs. Primarily used for peeling fruits and vegetables, they're ideal for intricate cuts like creating garnishes, removing stems and seeds from produce.
This F. Dick paring knife features a forged blade that's connected seamlessly with the handle and provides the right amount of weight for a superior cutting experience. With a 3.5-inch blade made of German stainless steel, this knife thicker handle ideal for off-cutting board use. Use it to devein shrimp, section fruits and vegetables, and trim herbs with ease.

F. Dick Bread Knife Serrated Edge Red Spirit 10"
For your carb fix, round out your collection with a proper bread knife to cover all the bases. Chef and paring knives have many uses but are less than ideal for cutting bread. Serrated blades are needed to grip the soft bread and cut without crushing.
The F. Dick Red Spirit series feature a unique rounded handle and Asian styling for a bold and impressive design that makes a statement: this is not your ordinary bread knife. Engineered for performance through a specialized grinding and polishing process, the serrated blade is cut slim and exceptionally sharp, with a 10-inch length that's perfect for cutting large pieces.
These three F. Dick knives will form the perfect foundation of a good foodie's knife collection, but fair warning: once you try professional level knives, it'll be impossible to settle for anything less. See the our selection of F.Dick products at FoodSupplies.ca