A Foodie-Inspired Easter Treat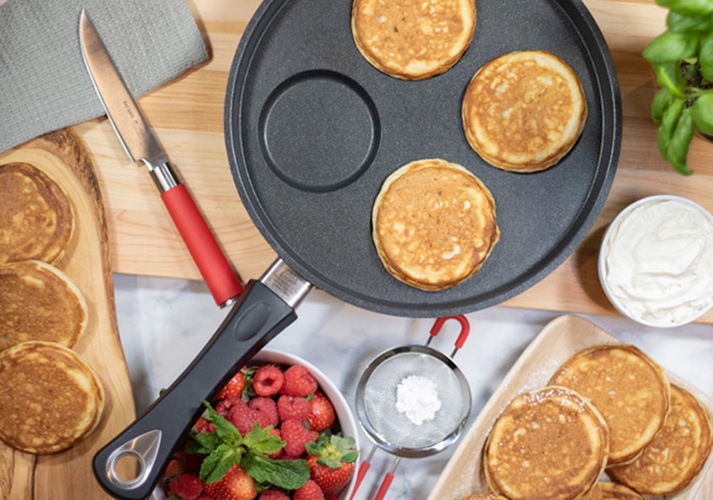 PHOTO: NICHOLE KELLY
A treasured tradition for many, Easter weekend is a chance for families and friends to get together and enjoy a meal and quality time with each other. This year, instead of hosting an elaborate feast, take the pressure off the occasion and plan a relaxing, yet intimate celebration at home. Forget the ordeal of trying to secure reservations at a restaurant that can accommodate your huge family and all their preferences. And no need to spend hours in the kitchen making multiple mains from scratch. For an enjoyable and interactive activity that's perfect for you, your family foodies and all the kids, consider investing in a piece of quality cookware, and selecting a recipe to make together using it. Set the stage by having the ingredients on hand and ready to make the dish.
For a twist on the big family dinner, think brunch! Curl up and enjoy your morning favourites in the living room, or even for supper, after cooking together. A fun, yet luxe gift idea for the gastronomically inclined, the AMT Cake Pan is designed with four shallow indents, for making several pancakes or eggs at once. Made of hand-casted aluminum for superior heat distribution and fast cooking time, the pan will make quick work out of cooking breakfast. Designed to be exceptionally durable with a 4-layer coating and non-stick finish that's PFOA free, this specialty skillet is destined to become your morning go-to and is built to last for years to come.
This buttermilk pancake recipe may appear deceptively simple but is a delicious, back-to-basics take on a breakfast staple. Consider it a blank canvas – you can enjoy the pancakes as-is or include a feel-good spread of garnishes and toppings to experiment with. Mix extras like chocolate chips, fruit, or cinnamon sugar into the batter before cooking, or sprinkle them on top – it's your call!

Buttermilk Pancakes
Yields: 13 pancakes
Cook Time: 20 minutes
1 ½ cups flour
3 tbsp sugar
1 tsp baking powder
1 tsp baking soda
¼ tsp salt
1 ½ cups of buttermilk
1 egg
2 tbsp melted butter
2 tsp vanilla extract
Directions:
Whisk all dry ingredients together in a bowl.




In a separate bowl add all wet ingredients – buttermilk, egg, melted butter, vanilla extract – and whisk together.




Add wet ingredients to the dry ingredients and mix until combined. Do not overmix.




Heat AMT Cake Pan at a medium/low heat.




Once hot, scoop batter with a #20 (1.8oz) disher scoop into each pan cavity.




When bubbles start to form, flip each pancake (approx. 3 minutes).




Cook for an additional 90 seconds, or until pancakes are a golden colour.




Serve with syrup if desired.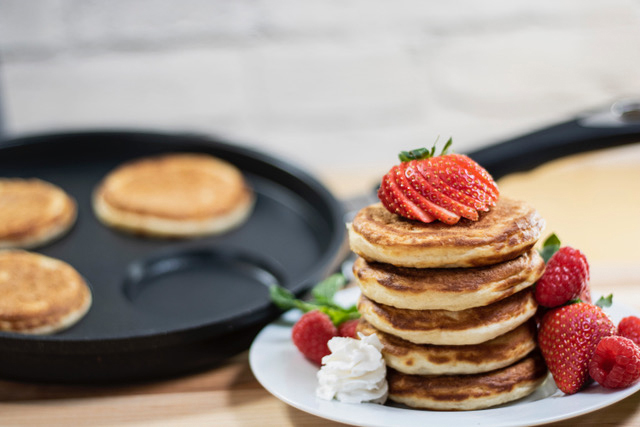 PHOTO: NICHOLE KELLY | RECIPE: NICHOLE KELLY

Enjoy these low-key but delicious pancakes for your Easter celebrations, but don't limit yourself. They're also great for your favourite foodie's special occasions. Make them for close friends, family, or just for yourself – you won't have to share!