Cookware Essentials for the Gourmet Foodie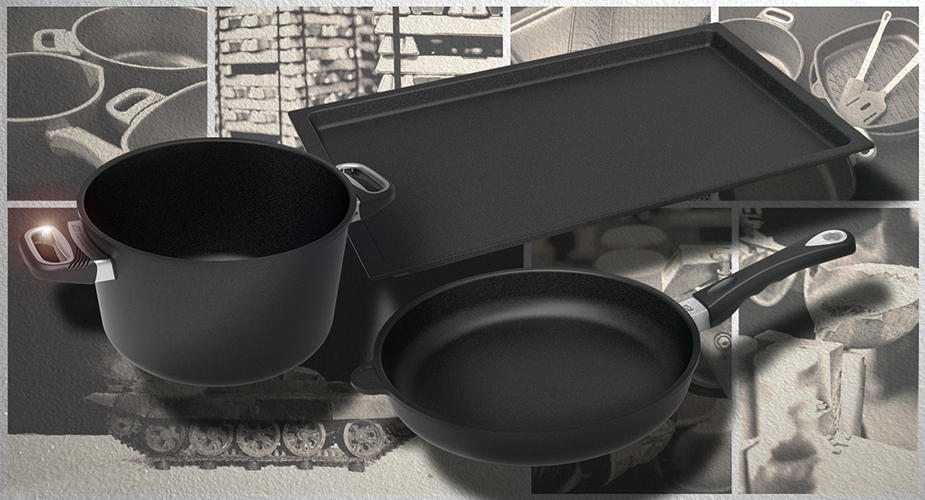 You're not one to believe your own hype, but it's true: You're a bit of an expert around the kitchen. You don't just call yourself a foodie, you walk the talk. You know your sauté from your flambé. You wield your tools with confidence and flair. You see recipes as inspiration, not steps to be followed. In other words, you've progressed beyond the basics. So, if you're in the market to add to your cookware collection, you're not just looking for new, you're looking for better. Your objective? To find well-made options that are multi-functional, long-lasting, and fun to use. High quality items with an edge so you can enjoy a superior experience in your kitchen. Here are some of our best bets—cooking essentials that also give a foodie the latitude to experiment with new techniques.

Are you still using boxed stocks in your recipes? Start making your own from scratch, using this high sided, 6.5L stock pot. Super versatile, this pot can also be used to make soups, stews, and sauces, although really, you're limited only by your imagination. Perfect for cold weather, nothing beats the smell of meat and vegetables on a low simmer, ready to be enjoyed on a winter day. Its large volume means you can cook for a crowd or make extras for yourself. Store extra servings in the fridge for the freezer for weekday lunches or a super quick dinner when paired with crusty bread.

For a better baking experience, upgrade from the cookie sheets you've had since your college days. This pan is designed for even and efficient heat distribution, and with its durable Lotan nonstick, so there's no need for the waste of using foil or parchment paper. Use the AMT Gastronorm 1/1 to make sheet pan meals, fancy pastries, and garnished flatbreads or anything that goes in the oven. And don't let the lack of liner scare you off: there's no need for an over-the-top scrub job—it's easily cleaned with soap and water.

Induction cooktop compatible, this pan can handle high temperatures with ease. You won't need to hesitate before turning it up—it can take the heat! Sear and brown your meat (or other types of food) efficiently with precision heat control—one of the benefits of induction cookware. Its 5 cm sides make it perfect for experimentation. Venture beyond its usual functions and use it for frittatas, stovetop pizzas and gourmet sandwiches, all made in record time.

You know you've outgrown the cookware you've used since you moved out. It's time to invest in the tools that are worthy of your skills. Not only is AMT cookware dishwasher safe and highly durable with a PFOA free non-stick coating, it's also used by culinary teams in professional settings. In fact, the AMT line includes an item that's recognized as the world's best pan by a major chefs' association. You can be confident it will do just as well in the demanding conditions in a foodie's kitchen at home.