Our Go-To Sundried Tomato Pasta Recipe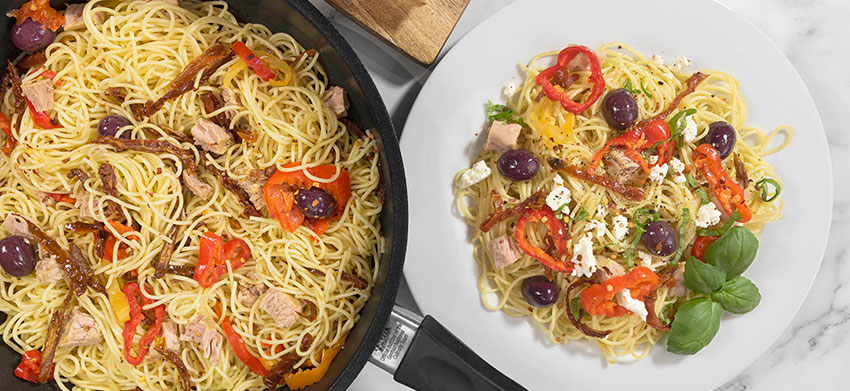 PHOTO: NICHOLE KELLY
Winter always seems to overstay its welcome by a few months. The feeling sets in when the holidays are a mere dot in the rearview mirror. The initial joy of fresh snow and outdoor activities are replaced by subzero temperatures and hardened slush, making the season a lot less appealing. This, coupled with our disrupted routines and pandemic restrictions, is giving many of us a bad case of the winter blues. If you're tired of the grey skies and cold weather, try adding a little bit of sun to your life with this sundried tomato pasta.
If sundried tomatoes aren't in your regular dinner rotation yet, you're in for a treat. They have a delicious, extra rich taste, thanks to the drying process which concentrates the flavour for a burst of savory goodness. Sundried tomatoes are also packed with lycopene, vitamin C and fiber. These are substances known to aid in general health maintenance, with anti-inflammatory antioxidant properties, and works to improve immunity - something we can all use right now.
As a pasta dish, it's an easy option to add to your list of dinner recipes. Pasta is a mainstay on most family dinner plans and for good reason. It's quick to make, with many variations, and equally appealing to kids and adults. This recipe adds a little twist to the basic spaghetti and meatballs you find yourself relying on for busy nights.
Not quite a one pot meal, but close, this simple recipe only takes minutes—about as long as it takes pasta to boil. The beauty of this dish is how it looks and tastes like it took a lot longer. It's made with pantry staples, so this meal is easy to put together on days you have too much going on already to go grocery shopping and perfect for chilly nights when even picking up takeout seems like too much effort. Light and fresh, it leaves the heavy cream sauces out for another day. If you crave a bit of heat, you'll like the spicy kick in every bite from the chili flakes (and you can even add more for increased intensity).

Ingredients:
Spaghettini (or your favourite pasta)
240g (3 x 80g cans) tuna in olive oil
125g (1 cup) of pickled banana peppers
80g (3/4 cup)sundried tomatoes in olive oil
75g (1/2 cup) of olives (green sliced)
½ tsp chili flakes
Feta and basil to taste
Boil pasta in salted water, following instructions on package.

Add the ingredients—tuna with oil, banana peppers, sundried tomatoes and sliced olives, red chili flakes—in a pan to heat.

Toss cooked spagehettini to the pan.

Serve with crumbled feta cheese and fresh basil.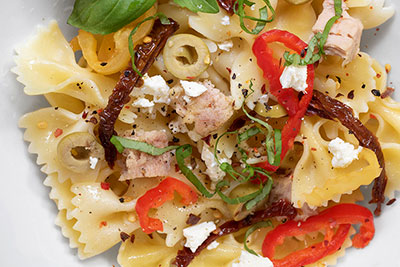 PHOTO: NICHOLE KELLY

Keep your pantry stocked with these basics—dried spaghetti, sundried tomatoes, tuna and banana peppers, and you'll always have this recipe in your back pocket for nights you're stuck on what to make for dinner. Enjoy!