Have a Casserole for Easter Brunch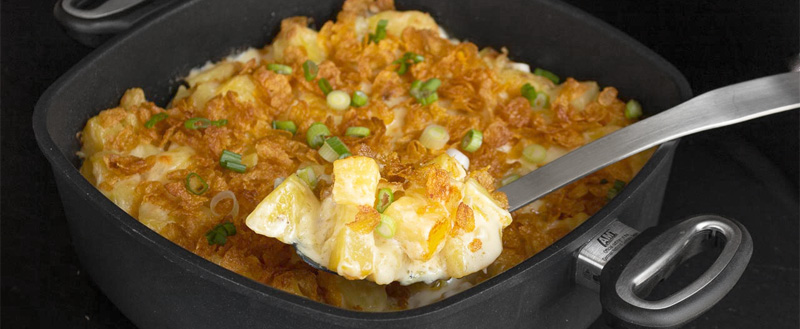 PHOTO: NICHOLE KELLY
While it still depends on the day, there's a trend towards warmer weather and more sunlight. For many of us, it almost feels like we're coming out of hibernation. We're finally nearing the end of a difficult winter. Early sunsets and sub-zero temperatures, along with the pandemic restrictions in many parts of the country, made the first few months of 2021 a challenge to get through.
The good news? Restrictions are beginning to loosen, summer is on the horizon, and there's optimism that things will get better in the foreseeable future. Here at Food Supplies, we are looking ahead and hopeful for what's in store. If that's not a reason to celebrate, we're not sure what is!
Spring is a time to mark new beginnings. Depending on where you live, you may finally be allowed to have small gatherings again. While you may not be having a large family get-together yet, a brunch or afternoon tea with your nearest and dearest can help boost morale and be a taste of the "normal" that will hopefully come later this year.
This cheesy hash brown potato casserole recipe is perfect for any mini-celebrations you may have on your calendar. It's a crowd-pleasing potluck contribution or ideal for a make-it-special Easter morning breakfast with your immediate family. It'd even well-received as a dinner side-dish. Full of cheesy, savoury goodness, it's delicious, made-from-scratch comfort food.
This recipe was tested using an AMT saucepan and casserole dish. We love this line for its non-stick cooking performance and easy cleanup (they're dishwasher safe)! AMT kitchenware's consistent heat-retention properties helps the casserole cook evenly for the perfect mix of cheesy potato goodness in every bite. Enjoy this dish with your friends and family as you reconnect safely in person!

Cheesy Hash Brown Casserole
1 onion diced
1/4 cup of butter
1/4 cup of flour
1 cup chicken stock
1/2 cup of whole milk
1 tsp of your favourite Tabasco
1/2 tsp garlic powder
1/4 tsp salt (1/2 tsp if using salt free chicken broth)
1/4 tsp black pepper
5lbs of potatoes peeled and cubed
250gms (2 cups) of sharp or aged cheddar cheese
8oz (1cup) of sour cream
1/4 cup melted butter
2 cups cornflakes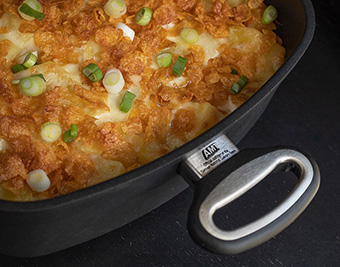 PHOTO: NICHOLE KELLY
Directions:
Pre-heat oven to 375°

Peel and cube potatoes to bite size pieces. Boil for 7 minutes or until they are tender but not cooked all the way through.

In a saucepan, melt a 1/4 cup of butter and sauté onions for two minutes.

Add quarter cup of flour and whisk the butter/flour mixture.

Continue to stir in pan and cook for an additional two minutes

Whisking constantly slowly add chicken stock milk and Tabasco sauce

Bring to a simmer and add salt, garlic powder and pepper

Remove from heat and fold in shredded cheese

Once cheese has melted stir in sour cream

Fold mixture into diced potato adding to a casserole dish

Mix corn flakes and melted butter and top casserole. Bake for 30 minutes at 375°

AMT pans are offered exclusively in Canada through Food Supplies. Feel free to contact us to find out more about this chef-approved line or for assistance in choosing the right cookware for your needs.