Bold, Red, and Inspired: The F.Dick Red Spirit Series

Here at Food Supplies, we're proudly Canadian and excited to celebrate Canada Day 2020.
While Canada Day celebrations may look a bit different this year, without fireworks, big parties or lively crowds, a quieter celebration can be just as special. It's been a while since we've been able to socialize, so gather up your friends, family, or whoever you have in your social bubble and enjoy some time together in person!
The Food Supplies staff love to show our "Red Spirit," and we believe this collection of F.Dick knives is symbolic of the occasion. The line includes a range of kitchen essentials as well as specialty knives. Designed with bold red style elements pulled from multicultural sources, it's representative of the people that make up our own great country.

Fish: Good and Good For You
There's no denying that fishing is a popular Canadian pastime, but not everyone has the patience for this outdoor activity. But whether you buy it from the market or are enterprising enough to catch one yourself this Canada Day, fresh fish is an ideal addition to a healthy diet. No matter how it's cooked, fish is packed with omega-3s, healthy fats, and lean proteins. It can be baked, fried, or seared and goes well with most seasonal vegetables and a glass of wine - the perfect light summer meal. While frozen fish is quick, easy to cook and cost-effective, it's true that nothing beats the taste of fresh.

The Filleting Knife - A Necessity for Fish Lovers
If you're a fish fan (or aspire to be), consider purchasing a filleting knife to help you prepare fish for cooking. Other knives simply aren't as effective at this specialized task. Filleting knives are unique in that they're specifically made for the purpose of cutting fish. With an extra thin, extra flexible blade, the F.Dick Red Spirit filleting knife is perfect for removing the scales and skin from the delicate flesh of the fish. How? The knife curves with the contours of the fish for effective cleaning and preparation. They're also ideal for removing the tiny bones usually found in fish.
Watch this video to see an F.Dick filleting knife in action.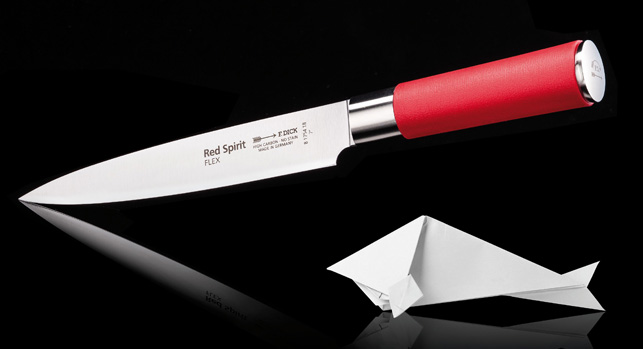 The Red Spirit Series
F. Dick's Red Spirit knives are a work of art in appearance and utility. The entire line features the characteristic ergonomic round handle in statement-making red. The knives are comfortable to hold and easy to handle, making precise cuts with ease and top-notch maneuverability. The blades are slim with a polished cutting edge that's designed to preserve the structure and shape of the item, creating clean cuts without crushing or breaking.
Whatever you select from the collection, you can be confident that Red Spirit knives are perfect for professionals as well as ambitious home chefs. Enjoy celebrating our nation's birthday and Happy Canada Day from the team at FoodSupplies.ca!