Versatile and Vegan - A Satisfying Plant-Based Dinner


PHOTO: NICHOLE KELLY
Got a meat lover in your life? It's not easy to convince die-hard carnivores to go veggie, even if it's only for a meal or two. Their main hangup? Taste. Vegetarian food is often stereotyped as not hearty or filling enough, without the rich, full-bodied flavour that's usually found in meat dishes.
While it's true that many vegetables lack that deep, nuanced taste on their own, there are actually many ways to give them that extra oomph. Oven roasting, special seasonings, the addition of fats and oils, and using aromatics like onions and garlic are all tried and true methods for adding flavour to vegetable-based dishes.
Another vegetarian kitchen secret? Mushrooms! They're a great way to add a savoury kick to your meals without meat. And aside from being tasty, mushrooms are also very nutritious.

Packed with health benefits, they contain protein, vitamin B and other minerals, as well as compounds to support immunity, which we can all use as the temperature drops. Plus, there's a huge variety of mushrooms to experiment with, such as cremini, portobello and shiitake, just to name a few.
For proof that plant-based cooking can be easy and delicious? Try this Gnocchi con Broccoli e Funghi Selvaggio (Wild Mushroom & Broccoli Gnocchi) developed by our corporate chef Carmelo Vadacchino.

It's both filling and vegan for the skeptics out there, thanks to the eggless potato gnocchi, making it the perfect cool-weather meal. The creamy sauce is made without dairy, using coconut milk and cashews, for a unique flavour profile that might just become one of your family's new favourites.
We recommend using a covered pot for the perfect sauce consistency, like this AMT braise pan and lid. The potato-based gnocchi absorbs any liquid in the pan quickly, so covering the dish will help keep the moisture in and the sauce at the perfect consistency—light, creamy and well-blended.

Gnocchi con Broccoli e Funghi Selvaggio
Ingredients
1 lbs uncooked eggless potato gnocchi
3 cups vegetable broth
2 garlic cloves (minced)
3 cups cubed broccoli florets
3 cups cubed Portobello mushrooms
2 teaspoons lemon juice
1 cup raw cashews
400ml full-fat coconut milk
salt & black pepper to taste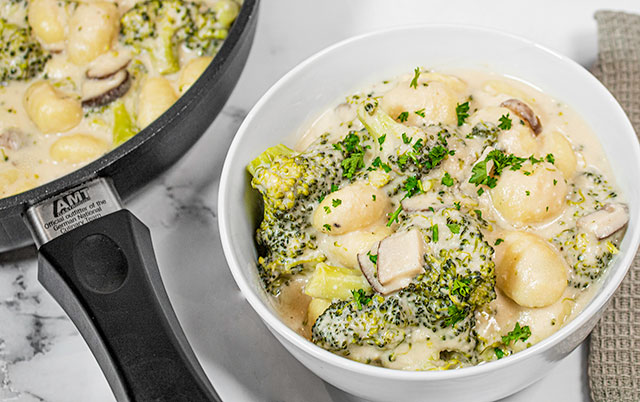 PHOTO: NICHOLE KELLY
Directions
Heat the vegetable broth to a medium heat and add the broccoli.

Cover and steam for 6 minutes until the broccoli is fork tender.

In a blender or food processor, combine the cashews, lemon juice, coconut milk, and garlic.

Pulse until smooth.

Add the cubed Portobello mushrooms to vegetable / broccoli broth, let mushrooms cook for 2 minutes.

Pour the cashew blend into the broccoli and mushroom sauce mix. Stir until smooth.

Boil gnocchi according to package instructions.

When draining the gnocchi, reserve 1 cup of the pasta water.

Add the cooked gnocchi and the reserved pasta water to the prepared sauce.

Cover, and stir occasionally until the sauce has thickened.

Season with salt and pepper to taste.
Enjoy! This vegetarian meal will surprise even the most ardent meat-eaters in your life with its hearty flavour.