Show Us Your Pink Spirit to Win!

Who hasn't been inspired by a story of hope, courage or strength from a woman in our lives? These memories are warmly shared over a family gathering or observed, in real-time, in someone we know. In some cases, we may even be living examples.
These stories are often told in our circles but rarely documented or mentioned to others. We make the mistake of seeing them as personally significant but not much more. In reality, they serve an essential purpose. Not only are they inspirational, they also fill us with good memories and positive vibes when things are difficult. We pass them down to our children and use them to serve as an encouragement to our friends.

Win a Set of Pink Spirit Knives
Want to share your story? Starting October 15, show us your Pink Spirit for a chance to win a set of our limited edition F.Dick knives. The Pink Spirit series features statement-making pink handles, and a donation is made to the Canadian Cancer Society with the purchase of each knife.
These premium, chef-calibre tools are made to last, with rustproof, high chromium steel blades and stylish handles to show your support in the battle against breast cancer. The collection includes a paring knife, a santoku knife, a chef knife and a bread knife, all beautifully crafted and the perfect addition to any foodie's collection.
What is Pink Spirit? It could be a meaningful anecdote about an inspirational woman you have in your life. It might be a positive way of life or mindset you've learned from a good female friend. It could even be a picture or video of someone that represents more to you than meets the eye. Be creative, and don't forget to tag us @fdickcanada along with three friends to enter!
Need some ideas? Check out what local food legend Zane Caplansky (of Caplansky's Deli in Toronto) has to say about what Pink Spirit means to him. Follow @fdickcanada to see more Pink Spirit stories shared by chefs, culinary experts and food influencers across Canada.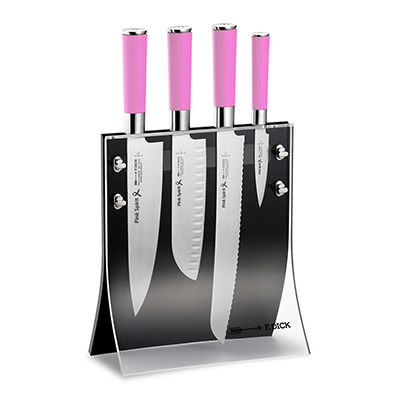 Official Contest Rules:
1. To enter, post a video or photo on Instagram telling us what #pinkspirit means to you or who is your #pinkspirit.
2. Tag and follow @fdickcanada.
3. Tag 3 friends in your post.
A random winner will be selected and announced December 2, 2020.
The prize includes: (1) Pink Spirit chef knife, (1) Pink Spirit Santoku knife, (1) Pink Spirit bread knife, (1) Pink Spirit paring knife, (1) acrylic knife block, and (1) Pink Spirit T-shirt.
Contest opens October 15, 2020. All submissions must be made by November 30, 2020 at 11:59pm. A random winner will be selected December 2, 2020. Open to all Canadian residents. Prize valued at $450.00 (1 Pink spirit chef knife, 1 Santoku knife, 1 bread knife, 1 paring knife, 1 acrylic knife block and 1 T-shirt). Odds of winning depend on number of entries.
We can't wait to hear the stories you have to share!