In Pursuit of Excellence - Culinary Team Canada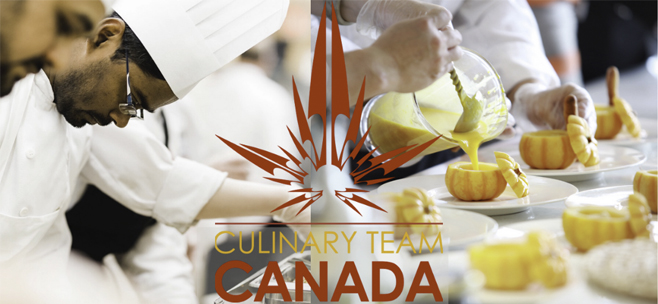 Did you know Canada has a national culinary team? It's true! While it may attract a bit less attention than their athletic counterparts, they're quite a force on the world stage. Culinary Team Canada has won the championships 3 times in the history of the competition, most recently placing second in two events and 8th overall in the 2020 Culinary Olympics in February.

Proud to Represent Canada
Being part of Team Canada is a fun and rewarding experience, but like elite athletes, it requires a commitment of time and energy - of at least 4 years, to be exact! Canada runs a junior and senior level team, and they compete in two major events: the Culinary World Cup and the Culinary Olympics. These two competitions alternate every two years, similar to the scheduling of the Summer and Winter Olympics.
Everyone from the competitors to the support staff do it on a volunteer basis - to pursue their passions and represent their country on the world stage. Paul Hoag, executive chef at McMaster University is currently serving as team captain, overseeing the team, managing objectives and providing long-term planning.
And just like the athletes, the team requires sponsorships to operate.

Support Needed on the Path to Success
Even during other years, Team Canada operates a little differently from its European counterparts. Unlike many European teams, the Canadian team does not have a massive fanbase, nor the type of funding to pay competitors for their commitment and participation. Canadian competitors require support and flexibility from their families and employers to commit to being part of the team.
And there's no doubt that the current situation is creating some new challenges. Sponsors and funding are harder to secure with the pandemic and its impact on the economic climate. Fundraising and special events that would normally help bridge the financial gap are all on hold. With team members living all over the country, travel restrictions are making it difficult to hold in-person practice sessions, which are generally held in a culinary training facility located in Aurora, Ontario.
Food Supplies is an avid fan of Team Canada and is proud to play a key role in ensuring the success of the team, no matter what the circumstances are. For starters, AMT and F.Dick, two of Food Supplies' exclusive brands, provide equipment and tools in exchange for promotional activities. Chef Carmelo Vadacchino, Food Supplies' corporate chef, works magic in cultivating leads and finding sponsors from his vast knowledge and network within the food and hospitality industry. Cameron Callum, the general manager of the company, takes care of PR tasks, social media, and logistics for the team.

What's ahead for Team Canada
While nothing's been confirmed, Team Canada is hopeful and optimistic that the next major event, the 2022 Culinary World Cup in Luxembourg, can continue as scheduled. Even though 2022 seems like a far way out, the support staff is busy handling details behind the scenes to make sure all team members will be ready for the games.
Culinary Team Canada's website will be launched shortly with info about the team and how you can support them. Until then, you can learn more about the Culinary Olympics Games here on the official website.
Go Canada!