Low-Waste, High Taste Cooking for Fall


PHOTO: NICHOLE KELLY
Fall is here, and we've entered a new phase in pandemic living. While we might still be physical distancing and wearing masks, many of us are getting out of the house a bit more, whether out of necessity for learning and work, or even just to soak up the last of the warm weather outdoors.
We're juggling professional and personal responsibilities, and for those of us with families, we're also dealing with the added stress of school. Whether it means coaching the kids through online lessons or rushing around doing pickups and drop-offs, packing lunches and reminding them to wash their hands, the result is the same: time is at a premium, and people are battling burnout.

Having to think of what to make for dinner on busy weeknights doesn't help. Needlessly complicated recipes are draining, and having to make a main with sides can feel like more effort than it's worth.

Delicious One-Pot Cooking With AMT
This is where a one-pot meal comes in handy. It's a shortcut that doesn't sacrifice on flavour or nutrition for your families. These versatile recipes are quick and easy, often taking much less time to make than a full three-course dinner, and cleanup's a breeze since only one piece of cookware is used. Have leftovers? One-pot meals are also low-waste ones. Store them in the fridge and pop some in a thermos for a fantastic hot lunch option for the next day. Of course, it's also a quick grab and go meal from the fridge if everyone's at home.
One "pot" meals can take many forms - sheet pan dinners, soups and skillets, for example. Our Moroccan style braised chicken thighs recipe is made in a pan and is packed with seasonal veggies and nourishing herbs, for a meal that's as delicious as it is nourishing.
Find your favourite high sided pan and give it a try. We recommend this one from AMT for a great non-stick experience and easy cleanup.
Enjoy this healthy, warming, and thoroughly "fall" recipe.

Moroccan-Style Braised Chicken Thighs
Yield: 4 servings | Prep time: 10 minutes | Cook time: 30 minutes | Total time: 40 minutes

Ingredients
8 skinless bone-in chicken thighs
Salt and pepper
1 TBS olive oil
1 onion diced
2 cloves of garlic minced
4 cups of fresh or frozen butternut squash cubed
2 cups of reduced sodium chicken stock
1/8 tsp nutmeg 1/8 tsp cloves
1/8 tsp all spice ¼ tsp turmeric
¼ tsp of cinnamon ½ tsp chili powder
¼ tsp salt
½ cup of golden or
Sultana raisins
1 lemon juice and zest
1 cup of couscous
¼ cup sliced almonds
¼ cup fresh chopped parsley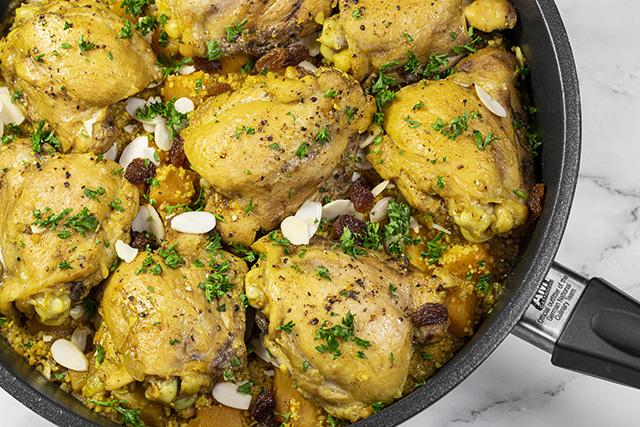 PHOTO: NICHOLE KELLY | RECIPE: NICHOLE KELLY

1. Heat the oil in a large lipped pan.

2. Season chicken with salt and pepper before placing in pan. Brown chicken thighs, about 5 minutes per side. Remove the chicken once done.

3. Add onions and garlic to the pan and sweat for 2 minutes.

4. Add butternut squash and cook for 3-5 minutes until squash softens.

5. Add chicken stock, spices and raisins. Stir to combine.
6. Return chicken to pan, cover, and cook for 10-15 minutes (the chicken's internal temperature should be at least 165◦F). Remove chicken from pan.

7. Add lemon juice and zest to the pan.

8. Add couscous and stir.

9. Cover and remove from heat. Allow to sit for 5 minutes.

10. Serve, topped with almond slices, chicken and freshly chopped parsley.