Make it Gourmet - A Next-Level Grilled Cheese Sandwich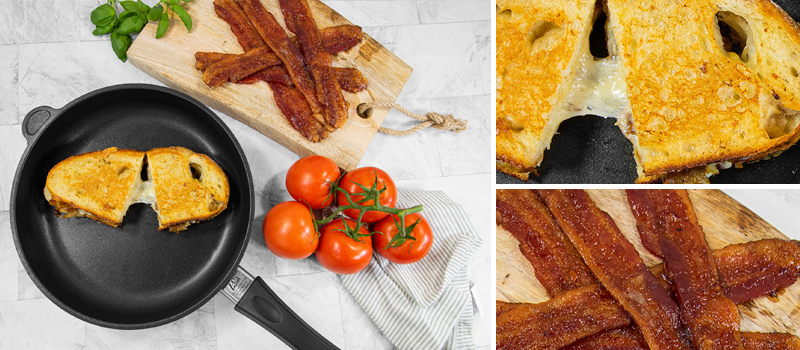 PHOTO: NICHOLE KELLY
Delicious as a garnish, decadent as a sauce, perfect in a supporting role on a charcuterie board. Is it any wonder cheese is such a hit? The creamy, savoury texture is hard to beat when it comes to comfort food, but cheese comes in many different types to explore and enjoy.
If you find yourself in a bit of a holding pattern this winter, looking to hibernate and make your indoor life a little more inviting, think throwback—back to your childhood, that is. This gourmet grilled cheese recipe is made in a pan and just yummy as you remember from your grade school days – maybe even better! It involves a bit more work than putting processed cheese slices on Wonderbread, but it's worth the effort.
And the best part? This recipe is endlessly customizable—a foodie's dream! You can experiment with different combinations of cheese, bread and spreads to make your perfect sandwich. For example, our recipe testers liked a mix of 50% aged cheddar, 25% gouda and 25% gruyere. According to their palates, this combination yielded the best depth of flavour. However, with the dozens of cheese varieties out there, you might find a favourite in a different ratio.
And perhaps unsurprisingly, kids tend to enjoy the simplicity of white bread for their grilled cheeses, while adults enjoy the tang of sourdough. Not a fan of butter? We'd advise you to rethink your life choices, but you can also try mayo on the bread instead for a subtle twist on the typical grilled cheese flavours.

Ingredients
8 slices of sourdough bread
¼ cup soft butter
1 ½ cups of room temperature shredded aged cheddar cheese
¾ cups of room temperature shredded gouda
¾ cups of room temperature shredded gruyere
1 cup of caramelized onions *
8 slices of crispy bacon strips (optional)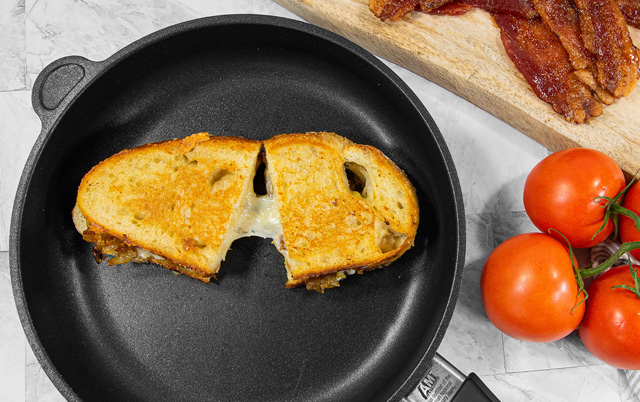 PHOTO: NICHOLE KELLY

Directions
Shred and mix cheeses

Heat a

frying pan

to medium heat (for best results, we suggest an AMT pan for its superior nonstick and heat retention qualities)

Butter one side of each slice of bread.

Lay the two slices, butter side down in the pan.

Spread ¼ cup of caramelized onions (see below for our tips on how to prep the onions) on each slice of bread in the pan.

Top with ¾ cup of cheese mixture distributed evenly on each bread slice.


(Optional step: Add 2 pieces of bacon to each slice. For crispy bacon, line a baking sheet with foil and lay bacon strips on top without overlapping. Bake at 400 degrees for 20 minutes or until crispy).

Top each with a slice of bread, buttered side up.

Once golden on the bottom, carefully flip over the sandwich.

When the other side has browned, remove from pan and serve.
(Note: If your cheese hasn't melted completely, but the bread is already brown, leave the sandwich in the pan but remove the pan from the heat. AMT pans are excellent at retaining heat, so remember to flip the sandwich often to keep it from burning)

*How to make our fool-proof caramelized onions
Slice 6 onions, adding 3 TBS of butter and 3 TBS of olive oil to a frying pan

Sauté for 5 minutes before adding 2 tsp of sugar and seasoning with salt and pepper.

Cook for 30-45 minutes on medium heat, remembering to stir often.
If you tried this recipe, liked it or put your own spin on it, tell us about it on our Facebook page!