Family Comfort Food: Our Best Ever Mac and Cheese Recipe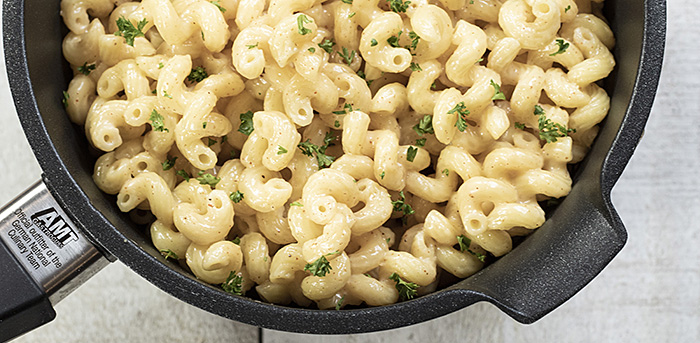 PHOTO: NICHOLE KELLY
Comfort food can take many forms, and most people have their "go-to" dish for when they're feeling down. Most of the time, these meals have a deep connection to childhood - to a time when we felt safe and secure. In this time of uncertainty, there's never been a better time to upgrade one of the most common comfort foods around: Mac & Cheese!
Macaroni and cheese is one dish that makes everyone happy! No matter how old or young you are, it's hard to beat this classic staple when you're on the hunt for comfort food on a chilly spring evening. But far too many people rely on that boxed stuff you can get off the grocery store shelf. It's time to say goodbye to boxed mac and cheese forever.
No self-respecting food enthusiast would admit to using that neon orange "cheese powder" - but we've all done it from time to time.
But you'll never go back to the boxed stuff again with this creamy, tasty, and easy-to-make Stovetop White Cheddar Mac and Cheese recipe! It's incredibly creamy, super cheesy, and 100% pure comfort food that will have you curled up beneath a blanket and feeling like home in no time.
What's more, this foodie-approved twist on an old favourite is as easy to make as it is delicious! After all, who can turn down that rich white cheddar flavour?
We recommend shredding your cheese by hand, using the coarsest blade on a box grater. You could also break out your food processor for evenly shredded cheese. The problem with store-bought, pre-shredded cheese is that it is often coated with a chemical to help it resist melting on the shelf – which is no good for the even melting the best macaroni and cheese requires!
Instead, shred your own block cheese to ensure a smooth melt for your cheese sauce - and a creamy and delicious meal.

Use a high quality large pot, like the AMT Milk & Sauce Pot, for even cooking and stress free cleanup. AMT pots and pans have incredible non-stick qualities and a 25-year warranty, making them ideal for any comfort food recipe.
Feeling like taking a few comfort food risks? Try sharp cheddar instead of white cheddar. Add bacon crumble or bacon bits for a little more excitement. You could even add some hot sauce to give it a bit more kick. Take the opportunity to fine-tune your favourite comfort food until it's perfect! One of the best things about this wonderful recipe is that it's freezer-friendly comfort food. If you're feeling adventurous, double or triple up on the recipe, and freeze the rest. Simply portion it out into small bowls or freezer-safe containers, and plan out future comfort meals. It's perfect for those days when you're craving something soothing, but don't have the time or inclination to create something new to tickle your taste buds!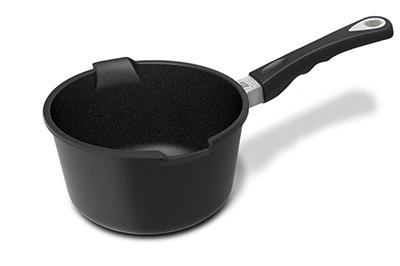 Stovetop White Cheddar Mac & Cheese
Prep time: 15 minutes | Cook Time: 20 minutes
Ingredients
375gm – 450gm package dry macaroni
3 TBS butter
3 TBS flour
2.5 Cups of shredded white cheddar cheese
1/2 cup of grated Parmesan
1/2 tsp of dry mustard
1/2 tsp of chili powder
1.5 cup of buttermilk
Directions
1. Cook macaroni or favourite pasta as directed
2. In a medium heated pan, melt butter, add flour and stir for 2 minutes
3. Add small amount of buttermilk at a time, whisking until smooth
4. Add spices and mix in
5. Reduce heat to low
6. Add cheese and mix until melted. Do not let boil, sauce will break
7. Add pasta mix well and serve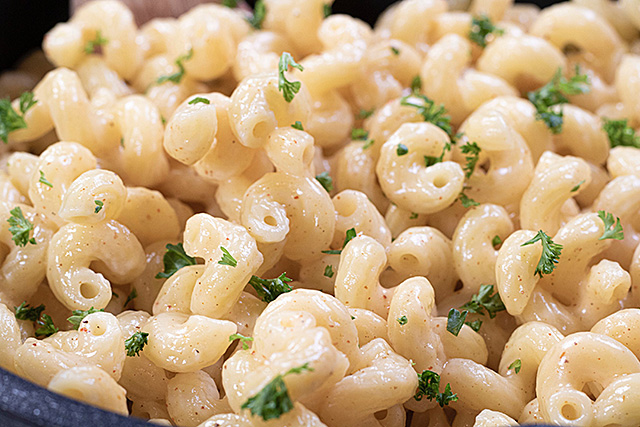 PHOTO: NICHOLE KELLY | RECIPE: NICHOLE KELLY