No-Bake Desserts for Hot Summer Days


PHOTOS: NICHOLE KELLY
Canadian summers are a time to put the winter behind us, to enjoy long lazy afternoons and warm evenings with the sun still in the sky. With temperatures peaking, everything seems to slow down. We love the simple pleasures of being outside, indulging in a treat from the ice cream truck, or a run through the sprinkler.
Even our meals become lower maintenance. It just doesn't feel like the time for a long roast or a simmering soup. So instead, our menu consists of summer salads, impromptu BBQs, or sandwiches with a side of chips and watermelon.
Desserts should be just as easy! But your sweet tooth deserves better than just ice cream and popsicles. What you need is a bank of easy, no-bake dessert recipes designed to impress at get-togethers or casual outdoor dinner parties. We're thinking desserts with minimal prep, perfect for a weeknight treat after a long workday and after the kids have come home from camp.
We've come up with a list of approved, low-fuss, easy no-bake desserts here at Food Supplies! Developed and tested by Nichole Kelly, our sales and marketing coordinator (and part-time recipe creator), these sweet treats fit in at any summer occasion.

Ingredients
2 cups of whipping cream

1/4 cup cocoa

2 tsp vanilla extract

2 tsp of instant coffee

1/2 cup powder sugar

1 pkg of chocolate wafer cookies

Sliced almonds

Caramel sauce

Chocolate sauce
Directions
1. In a stand mixer with the whip attachment, whip cream, cocoa, vanilla, and instant coffee until stiff peaks form.
2. Slowly add icing sugar. Be careful not to overwhip.
3. Spread each wafer with a teaspoon of whipped cream stacking 6 high, repeat 3 more times.
4. Lay the stacks down in 2 rows tight together, using a teaspoon of whipped cream to hold together.
5. Cover the cake in the remaining whipped cream.
6. Cover and refrigerate for a minimum of 4 hours.
7. Top cake with caramel, chocolate sauce and almond slices.
8. Cut cake diagonally from the corner to get a zebra pattern.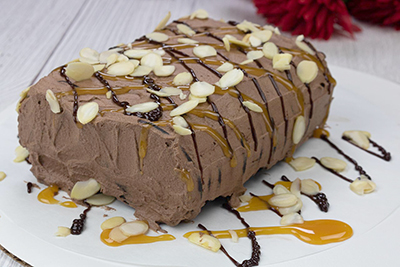 PHOTO: NICHOLE KELLY

Strawberry Cheesecake Parfait
Ingredients
1 cup of vanilla greek yogurt

1/2 cup light cream cheese

Lemon zest

2 cup of strawberries

Juice of 1 lemon

1 TBS of honey

6 ladyfingers (chopped) or 1 cup of vanilla granola
Directions
1. In a blender, mix yogurt, cream cheese and lemon zest (refrigerate until ready to serve).
2. Chop 2 cups of strawberries, mix with the juice on 1 lemon and 1 TBS of honey (refrigerate until ready to serve).
3. Chop 6 ladyfinger cookies into small pieces.
4. Assembly: alternate layers of ladyfingers (or vanilla granola), strawberries and yogurt mixture.
5. Serve immediately.

PHOTO: NICHOLE KELLY

Orange Creamsicle Mason Jars
Makes: 8 4oz mason jars or 4 8oz mason jars | Prep time: 10 minutes | Chill time: 2 hours
Ingredients
3oz of crushed shortbread cookies

1 TBS butter melted

1 packages of cream cheese softened to room temperature

3/4 cups of icing sugar

1 orange zested

2 TBS of juiced orange

1.5 tsp of orange extract

2 cups of whipped topping (Cool Whip) divided
Directions
1. In a bowl combine shortbread crumbs and melted butter.
2. Divide evenly into each mason jar. Using the back of the spoon press down firmly to create the base layer.
3. In a mixer, beat cream cheese until light and fluffy.
4. Add icing sugar, orange extract, orange zest and juice.
5. With a spatula, gently fold in 1 cup of whipped topping.
6. Divide evenly into mason jars.
7. Fill the remaining jar with whipped topping.
8. Cover and refrigerate at least 2 hours up to 3 days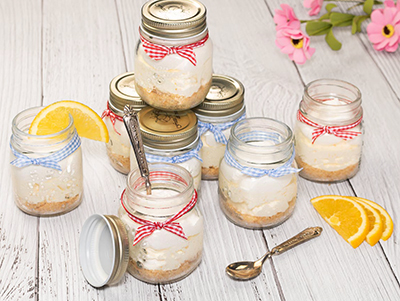 PHOTO: NICHOLE KELLY

Raspberries and Cream Angel Food Cake Dream
Ingredients
1 whole angel food cake (store bought) 1 package of vanilla pudding

1 1/2 cups of milk 1 cup of sour cream

1 can of raspberry pie filling

1 8oz container of whipped topping (Cool Whip)

Lemon zest
Directions
1. Cut angel food cake into 1-inch cubes using a good, serrated knife. We suggest the Pink Spirit Serrated Knife by F.Dick for a clean cut within crushing or creating excess crumbs.
2. In the mixer, mix the pudding packet, milk, and sour cream together for 2 minutes. Set aside.
3. In a 9x13 glass baking dish, arrange the angel food cake cubes in a single layer.
4. Spoon dots of half of the raspberry filling over the cubes.
5. Spread pudding mixture evenly over the cake evenly.
6. Spread Cool Whip into an even layer on top of the pudding.
7. Drop spoonfuls of remaining raspberry pie filling on top of whipped topping.
8. Use a skewer to drag though pie filling to create a marble look.
9. Zest lemon over top of dessert.
10. Cover and refrigerate for a minimum of 3 hours or overnight. Serve cold.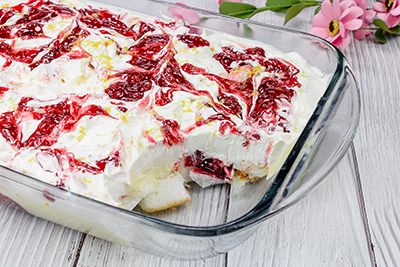 PHOTO: NICHOLE KELLY