Different Things to Cook on the BBQ

Everyone loves a good hot dog or burger, but if that's all you make on your BBQ, it's time to branch out. This summer is the perfect occasion to try new things, especially as we look forward to bigger get-togethers. If you're new to trying different things to cook on the BBQ, it's actually the secret to a great casual outdoor dinner. A variety of options (that are cooked the same way) allow your guests to customize their meals to their preferences and dietary restrictions without a lot of extra effort on your end.
Need BBQ ideas for a crowd? Believe it or not, you can make an entire three-course meal with dessert on your grill! And vegetarians rejoice: there are meat-free choices available for you as well. If you're feeding the whole gang, the AMT BBQ pan is the tool you need to increase your cooking capacity. Available in several different sizes and in conventional and induction options, these pans have grill lines and a large surface, giving you the flexibility to cook more and faster by using your stove without sacrificing that smoky flavour.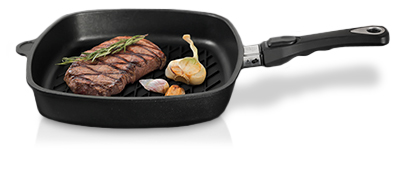 Different Things to Cook on the BBQ - Starters
A salad is good to have on hand, but skewers are a fun and easy choice for summer evenings. You can let your guests make their own by having pre-chopped vegetables, meat, and seasonings available. Everyone can get exactly what they want! For protein, basics like chicken, steak and shrimp are crowd-pleasers. Throw in something unexpected, like pork belly, for an extra twist. Potato, peppers, and zucchini are delicious veggie offerings.
And don't forget grilled corn on the cob with plenty of butter and spices! Magic Creations Shake-On Seasonings come in 4 different flavours. They're pre-blended mixes that are delicious on your meat or vegetable dishes, giving your friends an extra layer of customization.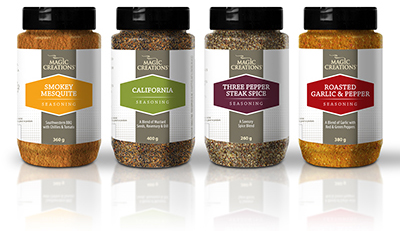 Mains
A good steak is always a favourite, but don't be afraid to take some "shortcuts"! The marinade doesn't necessarily have to be made from scratch and used for hours. Magic Creations 20 Minute Beef Marinade makes it easy to throw together a delicious steak that melts in your mouth. It's ideal for round, blade, sirloin tip and cross rib steaks.
For those who want to go easy on the meat, foil packets are an efficient, enclosed way to cook shrimp or fish along with some smoke-infused vegetables. Simply seal your favourites in foil and cook them directly on the BBQ. It keeps you from dropping the shrimp or fish flakes through the grill. You can also cook on the AMT BBQ pan for easier handling. Its superior nonstick coating will help keep even the most delicate foods intact.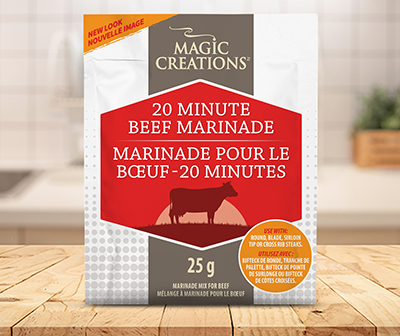 Dessert
It can be as simple as grilling a few pieces of sliced pineapple or orange. The heat chars and caramelizes the sugar for a sweet yet tangy taste. Serve with a side of vanilla ice cream for a break from the heat. Another idea? Keep the skewer theme going with fruit kabobs. Pineapples and oranges work well, but so do strawberries, bananas, peaches, and watermelon. Encourage experimentation by providing bite-sized pieces of cake or brownie and toss the completed skewers on the BBQ for a finishing touch.
Who knew a BBQ could do so much?