Make a Foodie Approved Hearty Vegetarian Dinner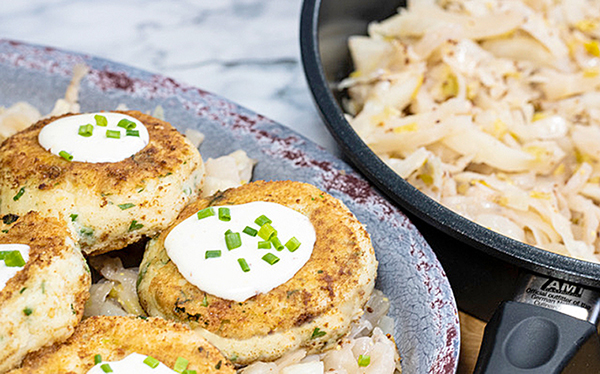 PHOTO: NICHOLE KELLY
Comfort food should be warm, filling and hearty, but there's no rule that it must include meat!
There are many reasons to eat less meat. For starters, it's better for your health and the environment. Plant based meals tend to require less resources to farm and ship. Generally, there's also less fat and calories in meatless meals. If you're a bit intimidated by the thought of giving up your carnivorous habits, remember that there's no need to commit to full out vegetarianism. You can dip your toe in the pool by trying out a couple meat-free meals a week to start off.

For starters, this foodie-approved meal is veggie packed and perfect to kick off your meatless journey. The rich flavours in this potato cakes and cabbage vegetarian recipe will please even the most committed of meat lovers.
Use a quality frying pan for efficient cooking and easy cleanup, like a pan from the award-winning AMT cookware line. AMT products have phenomenal nonstick qualities and a 25-year warranty. An extra sharp knife will make even quicker work of cooking. The F.Dick Red Spirit Santoku knife fits the bill perfectly for a high performance blade that stays sharp.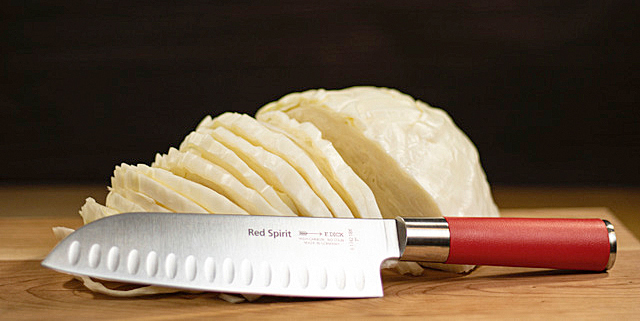 PHOTO: NICHOLE KELLY

Potato Cakes and Cabbage
Prep time: 15 minutes | Cook time: 40 minutes | Inactive time: 1 hour – 24 hours
Potato Cakes
5lbs Bag of potatoes – peeled and quartered
¼ cup of milk
2 tbsp of butter
1 tsp salt
4 Green onions
3 eggs
Juice and zest of 1 lemon
2 tbsp of Worcestershire
Vegetable oil for frying
Cabbage
1 medium cabbage thinly sliced
4 cloves of garlic
1 leek cleaned and diced
2 tbsp of butter
2 tbsp of grainy mustard
½ cup of red wine vinegar

Mustard Sour Cream
1 cup of sour cream
1 tbsp of grainy mustard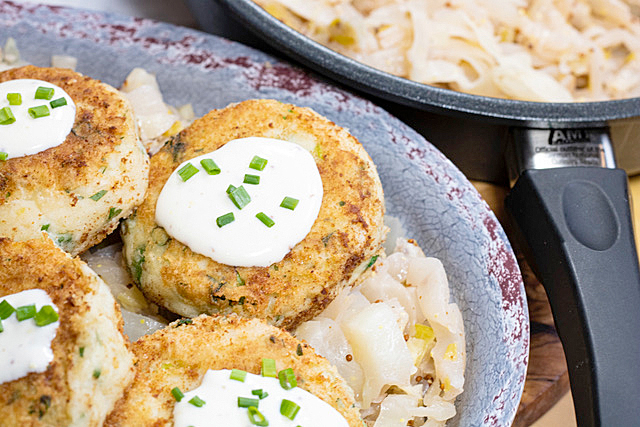 PHOTO: NICHOLE KELLY | RECIPE: NICHOLE KELLY

Directions
1. Boil potatoes in salted water until tender approx. 20-25 minutes
2. Mash potatoes adding milk, butter and salt
3. Let cool in the refrigerator for a minimum of 1 hour to overnight
4. Add eggs, green onions, lemon zest, juice and Worcestershire sauce
5. In a bowl mix sour cream, grainy mustard, and Dijon mustard and set aside in the fridge
6. In the AMT Frying Pan (Ø28cm, 5cm) pan add butter, garlic and leeks

7. Sauté for 4 minutes until translucent
8. Add the cabbage and cover for 15 minutes tossing occasionally
9. Meanwhile in a separate pan, cover bottom of pan in vegetable oil.
10. Scoop ¼ cup of potato mixture and form into patties. Pan fry 2-3 minutes per side until golden brown
11. In a separate bowl, mix mustard, vinegar and 1 tsp salt. Add to the cabbage and continue to cook without the lid on. Tossing frequently until cabbage is tender.
12. Serve potato cakes on cabbage topped with sour cream mixture.

With a wealth of delicious vegetarian dinner recipes and meat substitutes on the market, ones that taste so great you won't even miss your usual helping of chicken, beef or pork. Consider it a foodie kitchen challenge to create meatless meals on a regular basis. Vegetarian comfort food doesn't have to be an oxymoron!