A Father's Day Dinner in With Homemade Pizza Dough
Keeping the family entertained, engaged and fed isn't always easy while social distancing. When you can't invite friends over, go out for a meal or enjoy your usual go-to activities outdoors, what's left to do? Not to mention the three meals plus snacks you have to come up with every day. If your family favourites have become tiresome and well-trod, kill three birds with one stone by relying on hands-on dinner recipes that even younger kids can participate in.
Making homemade pizza is a fun activity with a delicious payoff at the end. It's tactile and sensory-rich for younger kids, and an opportunity to practice math concepts and cooking skills with older ones. While Neapolitan pizza is traditionally made with tomatoes and mozzarella cheese, there's no need to play by the rules at home. Add a spread of toppings for everyone to customize their own mini pizzas, or make a large one with crowd-pleasers like extra cheese and pepperoni.

Classic Neapolitan Style Pizza Dough

Ingredients Needed:
4 cups unbleached all-purpose flour
1 1/2 cups warm water
2 packets (1/4 ounce each) active dry yeast
2 tablespoons sugar
2 teaspoons kosher salt
1/4 cup extra-virgin olive oil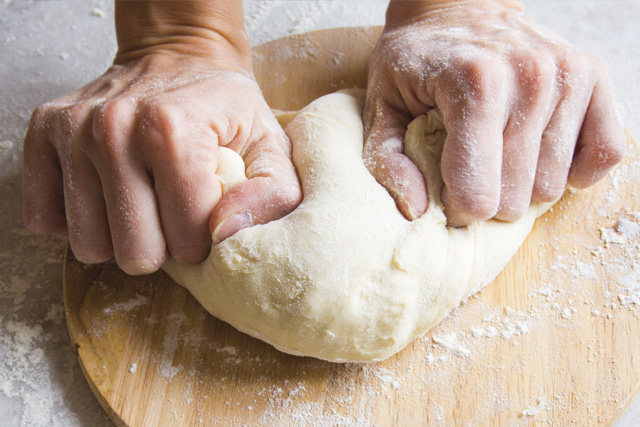 Instructions:
1. In a medium bowl, add the water, yeast, sugar, salt and olive oil. Mix well to combine.
2. Add the 4 cups of flour to the liquid mixture. This will yield a dough ball of approximately 2 lbs.
3. Lightly dust the dough ball with additional all-purpose flour.
4. Separate the dough ball into 3 10oz balls and dust again with all-purpose flour.
5. Cover the balls with plastic wrap and leave out at room temperature for approximately 4 hours for the dough to ferment.
6. After the 4 hours, lightly dust the dough balls one last time with all-purpose flour, and flip them over (this counteracts the dough's tendency to collapse and gives it a chance to re-rise) before allowing them to rest for an additional 2 hours at room temperature.

After the 2 hour wait, your Neapolitan style pizza dough (complete with sourdough notes) is now ready to be rolled out and garnished with your favourite sauces, toppings and spices. Pop it on a pizza stone or thick baking sheet and bake for 12-15 minutes at 500°F.
This pizza recipe is perfect for a special occasion like celebrating Father's Day at home. Pick up his preferred toppings, some craft beers, and throw a few chicken wings on the BBQ for a new family tradition. And for a Dad that's a true pizza connoisseur, consider the Fornotica Pizza Oven as a next-level Father's Day gift. The perfect addition to any backyard, Dad will love showing it off, and it'll make dialling in for pizza delivery a thing of the past.