Foodie Talk – The Staff at Food Supplies Share Their Restaurant Recommendations

It's been a tough year for many restaurants. Lockdowns, restrictions and reduced capacity have been hard on restaurant owners, and many are excited to see their favourite patrons and welcome back the dinner (or lunch, or breakfast) crowd! And what better way to organize a friendly meetup with old colleagues and buddies than at a good restaurant?
With the thousands of quality eateries out there, it's easy to get stuck on where to go. The staff at Food Supplies have you covered with restaurant recommendations across the country, complete with no-fail menu picks.

Barry Babcock
Based out of BC, Barry is the sales manager for Food Supplies' Western Retail division. His favourite restaurant? Sunny's Modern Diner in Kelowna. Breakfast is the most important meal of the day, and the most delicious, if you're feasting at Sunny's! In his words, it's got great service and excellent food, thanks to an outstanding chef. Barry's favourite meal is the Chicks on a Raft, with eggs, bacon, and sharp cheddar on a PB loaf. It's not your typical all-day breakfast.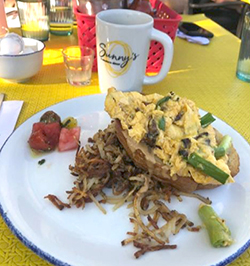 Bruce Larkin
Who doesn't love pizza? But sometimes, you may be feeling like something a bit more upscale than delivery from the nearest chain. Bruce Larkin is the Sales Manager for Western Canada Processors at Food Supplies, and his go-to pizza place is Mario's Kitchen in Delta, BC. While Bruce usually opts for a slice of their delicious pies, the restaurant also offers a hearty selection of pasta, salads and other mains if you'd like something different. And make sure to save room for their dessert menu too!

Warren Deforest
As the Director of Strategic Development, Warren handles the company's grocery accounts and has an eye for quality. His pick? The family-run Joe Feta's in St. Catharines, Ontario, for its lively atmosphere and authentic Greek food. Warren suggests the saganaki opa with their kebab combo, which features chicken, beef and lamb (no need to choose). His favourite sides are Greek salad, Greek rice and roasted potatoes.

Nichole Kelly
Travel restrictions may have clipped our wings, but Nichole, the sales and marketing coordinator at Food Supplies, has just the ticket: a bistro with a French vibe, located in the Distillery District in downtown Toronto. Cluny Bistro & Boulangerie features a range of decadent eats, but Nichole loves the braised short ribs sandwich with horseradish aioli and gruyere cheese—it comes with what she describes as "a killer beef dip." Also, don't forget to check out their baked goods—you can't go wrong with any of the pastries they offer.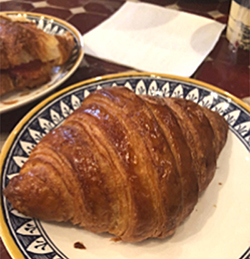 Carmelo Vadacchino
As the corporate chef and brand ambassador at Food Supplies, only the best will do for Carmelo. So when he names Capra's Kitchen in Mississauga, Ontario, as one of his favourites, you know it can't be missed! After all, who can pass up a delicious Italian dinner cooked by top-notch chefs? Of course, all the menu items are winners, but Carmelo usually goes for their Risotto ai Funghi, the perfect blend of carnaroli rice, porcini mushrooms and Grana Padano cheese.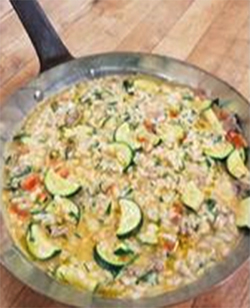 Mansoor Ahmad
Canada is home to a variety of delicious international restaurants. Mansoor Ahmad of the Accounts Payable department is a fan of Kayagum, a Korean eatery located in north Toronto. It's open 24/7 to serve customers whenever a craving for kimchi strikes! From spareribs to stews, Kayagum offers a huge range of Korean favourites, but Mansoor's dish of choice is the Kimchi pajeon, a spicy pancake made with fermented cabbage and other vegetables.

Badar Syed
Want Italian with a twist? Billing Analyst Badar Syed recommends Kara Mia, a halal Italian restaurant in Markham, Ontario. Kara Mia makes a unique spicy saffron sauce to dress their burgers and steaks (Badar's favourite is the rib-eye) and offers traditional favourites like fettuccine and penne if you're feeling like something more tried and true. It's a great family-friendly restaurant—their kids' menu features options like pasta and chicken fingers to appeal to even the pickiest child.

Dwight Reynolds
Love flaky fish, fresh salads and flavourful pasta? Dwight Reynolds, Ontario Sales Manager at Food Supplies, thinks you'll like the Lake House Restaurant in Vineland Station, Ontario. With a full menu of Mediterranean favourites, you'll find a main to enjoy this time and a list of dishes to try the second, third, and fourth you go. And—weather permitting—take advantage of their outdoor seating! Dine on their deck overlooking the water for a beautiful view and great food for the perfect night.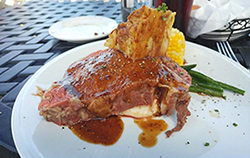 Bookmark this list and use it for inspiration next time you're on the hunt for a new restaurant. Share your own restaurant favourites with us on the Food Supplies Facebook page!