Foodie-Approved Holiday Dinner Sides


PHOTOS: NICHOLE KELLY
While things are not quite back to normal yet, many of us finally have the opportunity to—cautiously—celebrate the holidays again. Last year's toned-down festivities, mainly limited to our immediate family, are giving way to slightly larger parties and more opportunities to get together, done as safely as possible.
For many of us, the holidays may be the first time we've seen some of our family and friends in a long time, perhaps even over a year. While we may have to wait another year to have a blowout celebration with all of those we know, we still want to end off 2021 on a more positive, hopeful note. An intimate dinner party might be just the ticket.

Easy and Delicious Holiday Dinner Sides
Need ideas for your holiday menu? This year, level up from the usual mashed potatoes and cranberry sauce. Whether you'll be cooking a blowout feast or bringing a dish to enjoy, these two side dishes are sure to be crowd-pleasers. In addition, they're great, versatile complements to any main dish you have planned.

Holiday Balsamic Brussels Sprouts with Cranberries and Bacon
Brussels sprouts have enjoyed a renaissance as of late. They're no longer the vegetable you avoided in your childhood days. Maybe it's because we've learned to appreciate their slightly bitter tang or that we've discovered a better way of cooking them than just boiling. Either way, they're delicious! Roasted with bacon, they're downright indulgent, while being fairly easy to prepare.
Prep time: 15 minutes | Cook time: 25 minutes | Total time: 40 minutes
Ingredients
2 lbs of Brussels sprouts

3/4 cups of fresh cranberries

1/2 tsp salt

1/2 cup of bacon

1/4 cup of balsamic vinegar

1 TBS yellow mustard

1 tsp sugar

2 TBS olive oil (more for drizzling)
Directions
1. Cut, wash and let Brussels sprouts dry.
2. Preheat oven to 400°F.
3. Cut bacon into 1/2″ pieces and pan-fry bacon on medium heat until crispy.
4. Remove with slotted spoon and transfer to a paper towel. Set aside.
5. Place on a single layer on a baking sheet.
6. Drizzle with olive oil and sprinkle the cranberries.
7. Roast in the oven for 15 minutes. After 10 minutes, sprinkle the crispy bacon.
8. In a mixing bowl, toss sprouts with vinaigrette.
9. Serve immediately.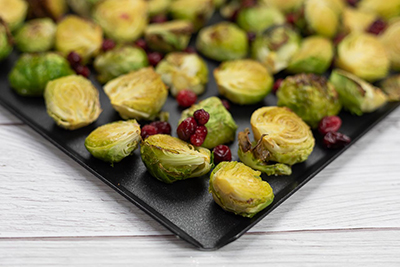 PHOTO: NICHOLE KELLY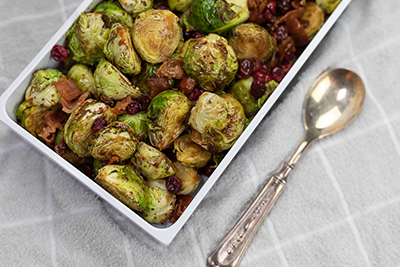 PHOTO: NICHOLE KELLY

Apple Bacon Stuffing
Stuffing is a must-have at any holiday dinner. Of course, it goes well with poultry, but it could even be good enough as a stand-alone side. This apple-bacon version puts a little twist on your traditional stuffing recipe and may just become a new family favourite.
Ingredients
1 loaf of sourdough crusty bread, cubed into 1" pieces

1 apple, diced

1 pack of bacon, cooked crispy

3 TBS summer savoury spice

4 eggs

3 cups of chicken stock

1 tsp each of salt and pepper

2 TBS of fresh thyme, minced

2 TBS fresh rosemary, minced

1 large, or 2 medium onions, diced

2 celery stalks, diced

1/3 of cold butter, cubed
Directions:
1. 2 days before making stuffing, place cubed bread on a sheet pan in a single layer. Leave out to dry. (If you've forgotten, bake your bread crumbs at the lowest temperature in the oven for 2-3 hours until dry, but not toasted) .
2. In a large bowl with all the bread crumbs, add 1 cup at a time of chicken stock to the bread, letting it sit for a few minutes in between to allow time for it to be absorbed. Avoid leaving excess liquid at the bottom of the bowl.
3. Mix eggs in a separate bowl. Add to bread.
4. Add remaining ingredients and stir until well combined.
5. Place in a large casserole dish.
6. Dot with pieces of butter.
7. Bake at 350°F for 30-45 minutes until the top is brown and centre reaches 165°F.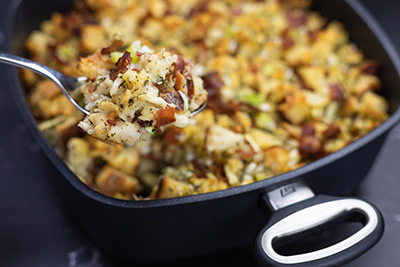 PHOTO: NICHOLE KELLY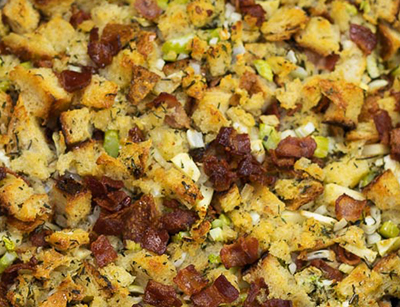 PHOTO: NICHOLE KELLY

For a few more recipe ideas, check out our guide on how to cook potatoes, and a holiday pulled pork recipe!
It's been a challenging two years for everyone, and unfortunately, we're not quite out of the tunnel yet. On the bright side, this time of year can serve as an opportunity to recharge with those we know and love. However you choose to celebrate, we hope you enjoy good food and great company during this time. Wishing you and your family a safe, happy and joyous holiday season from everyone at Food Supplies.