BBQ Seasoning for the Perfect Summer Day


PHOTO: NICHOLE KELLY
Ribs. When done right, they're flavourful and fall-off-the-bone tender. Need we say more? It's a delicious dinnertime meal that's reminiscent of BBQs, get-togethers, or celebrating the big game. Ribs can take a while to cook properly, but it's relatively hands-off after the seasoning process. They can be baked, smoked, or put on the BBQ for several hours.
The fun of ribs is the different flavours and rubs you can use. Saucy, messy ribs are fun to eat—the mess is part of the experience. But we're partial to dry rubs because they're endlessly customizable. You can create an improvised seasoning blend with the herbs and spices in your cabinet.
If you want to try your hand at making your own, remember to include both sweet and salty flavours in your rub mixture for a more nuanced taste profile. Brown sugar is a favourite for its richness, but white sugar will work too. Salt, pepper, and aromatic herbs are ideal for adding a savoury element. Finally, if you can handle the heat, add some kick with the addition of a hot spice—cayenne, paprika, hot pepper flakes, or your favourite—for a delicious mix.
You can also select a gourmet blend from a specialty retailer. For example, food Supplies offers a large selection of delicious seasonings that would be perfect on ribs, wings or your favourite meat dish. Our favourites include peach bourbon, maple bacon and St.Louis BBQ seasoning. They're excellent for chicken, steaks, or even fish. These BBQ seasonings add a unique touch to your meals without the guesswork of blending yourself.

How to Apply BBQ Seasoning
When using dry rubs, don't skimp! First, put a bit of oil on the ribs (or other meat you're planning to cook) for adhesion and an easier application. Then, apply a generous coating, working it into the meat with your hands. Leave on for a couple of hours if you plan to use barbecue sauce with your ribs, and overnight if you want to enjoy the ribs seasoned solely with the rub. Any longer than that, and you risk drying out your meat.
If you haven't tried preparing ribs in the oven, test-drive our perfect oven-baked ribs recipe. For optimal texture and a delicious, smoky taste, we suggest finishing the ribs off on the BBQ to give it a slight char.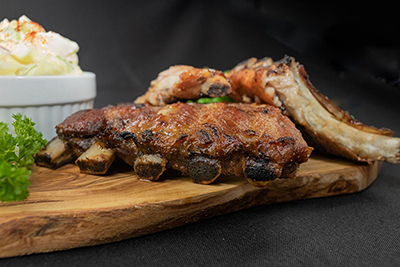 PHOTO: NICHOLE KELLY

The Perfect Oven-Baked Ribs
Ingredients:
2 racks of ribs
Dry rub seasoning (we used our Smokey Mesquite seasoning)
Directions:
1. Pre-heat oven to 250 °F
2. Remove silver skin from the back of the ribs. Rub seasoning all over ribs.
3. Wrap ribs in tinfoil and bake flesh side down for 2.5 hours.
4. Finish ribs on the BBQ and serve.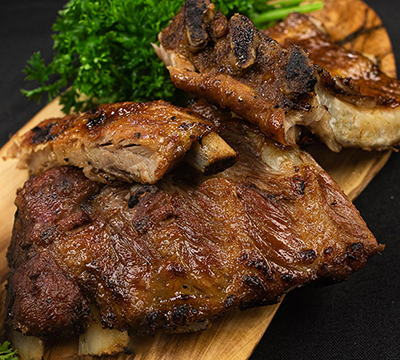 PHOTO: NICHOLE KELLY

Enjoy these scrumptious (and easy to make) ribs at your next cookout or game-day celebration – they're sure to be a hit with everyone!