Make-Ahead Healthy Lunch Ideas


PHOTOS: NICHOLE KELLY
School's back in session, and with it, lots of lunches to pack. It's a parent's least favourite chore since most kids have different preferences, dietary restrictions and eating styles. And don't forget, adults need to eat too. When working from home, it's easy to skip a meal on busy days, opting to grab a snack instead. And if you're in the office, the temptation to get takeout can be powerful, especially when you know you have an uninspiring bag lunch waiting in the fridge. We know neither quick-fix snacks nor pricey fast food is ideal—there are much healthier and more economical options. What you need are easy and healthy lunch ideas.

Easy and Healthy Lunch Ideas
The best lunches? Light yet filling to keep from putting you to sleep in the early afternoon. Ones packed with nutrition and include choices from all the food groups for a delicious, balanced meal. Remember to make your lunches ahead of time, so it's one less thing to deal with during the morning rush.
Our suggestions? Bento boxes, salads, and soups

Bento box-style lunches are a trendy choice for both kids and adults. These lunch boxes have multiple compartments for you to pack a variety of foods for each meal. We've made a chart for you below. We suggest choosing an item from each category to create a well-rounded and nutritious lunch. And don't forget to pack a sweet treat for dessert!
Tip: Use a silicone muffin cup in the box to create even more compartments - it can hold dip, shredded cheese, crackers, or berries!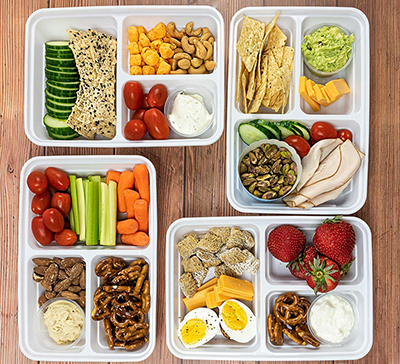 PHOTO: NICHOLE KELLY
Protein

Vegetable/Fruit

Fruit

Starch

Dip

Deli turkey meat

Deli chicken breast

Deli lean ham

Turkey bacon

Chicken breast

Turkey breast

Falafel

Almonds

Peanut/Almond butter

Cashews

Pistachios

Feta Cheese

Cheddar Cheese

Gouda Cheese

Boiled egg

Smoked salmon

Tuna

Carrot sticks

Celery sticks

Cherry tomatoes

Cucumber

Snap peas

Blanched green beans

Broccoli

Cauliflower

Red/green peppers

Lettuce/salad

Spinach

Avocado

Berries

Orange slices

Banana

Peach

Pomegranate

Melon

Grapes

Olives

Apple

Pineapple

Pear

Mango

Cracker

Mini pita

Rice

Corn

Chickpeas

Navy beans

Edamame beans

Lentils

Pretzels

Quinoa

Whole wheat toast

Whole wheat tortilla

Hummus

Light ranch

Greek Yogurt

Tzatziki

Light cream cheese dip

Dill yogurt dip

Light salad dressing

Baba Ghanoush

Guacamole

Peanut butter

These aren't the sad, wilted diet salads you've packed in the past. Believe it or not, salads can be hearty and rich! For an extra-deep flavour, try adding some roasted vegetables like sweet potatoes, onions, cucumber, and brussel sprouts, along with a healthy protein. But the real secret lies in the dressing you use. A good homemade dressing can bring out the best in the garden-fresh vegetables you choose and get you looking forward to lunchtime. The chart below will help inspire you to make a delicious, healthy, and filling salad.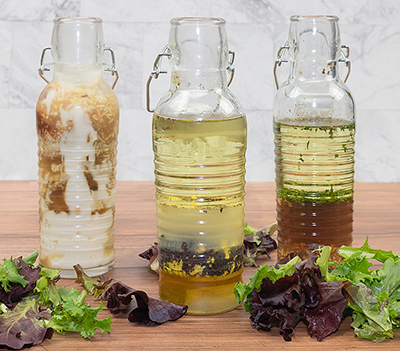 PHOTO: NICHOLE KELLY
Lettuce

Protein

Vegetables

Crunch

Dressing

Spring Mix

Iceberg

Romain

Butter lettuce

Boston lettuce

Kale

Boiled egg

Salmon

Tuna

Turkey Bacon

Chicken breast

Turkey breast

Red onions

Green peppers

Red peppers

Shredded carrots

Cherry tomatoes

Broccoli

Cucumber

Cauliflower

Almonds

Pecans

Pistachios

Croutons

Shredded carrots

Mustard vinaigrette

Herb vinaigrette

Apple cider vinaigrette

Sherry vinaigrette

Red wine vinaigrette* (recipe below)
You can get creative with your homemade dressings. Use the 2:1:1 method for the perfect dressing ratio. 2 parts oil, 1 part acid, 1 part flavour and emulsifier. Use our handy chart below to get the proportions just right (and don't forget to season with salt and pepper)!

Oil (1/2 cup total)

Acid (1/4 cup total)

Flavour/Emulsifier (1/4 cup total)

Olive oil

Avocado oil

Sunflower oil

Sesame oil (cut with other oil)

Grapeseed oil

Greek yogurt

Sour cream

Light mayo

Red wine vinegar

Lemon juice

Balsamic vinegar

Rice wine vinegar

Sherry vinegar

White wine vinegar

Champagne

Orange juice

Apple cider vinegar

Poppy seeds

Garlic powder

Onion powder

Smoked paprika

Worcestershire sauce

Hot sauce

Parmesan cheese

Blue cheese

Chili sauce
Can't quit your bottled dressings? Try these simple recipes packed with complex flavours that you can whip up in your own kitchen.

Red Wine Vinaigrette
⅔ cup of olive oil
¼ cup of red wine vinegar
2 TBS of lemon Juice
2 TBS of yellow mustard
2 TBS of Worcestershire Sauce
1 TBS + 1 tsp of pureed garlic
½ tsp of dried parsley
¼ tsp pepper (to taste)
½ tsp of salt (to taste)
Lemon Poppyseed Dressing
½ cup of olive oil
¼ cup of lemon Juice
1 TBS of yellow mustard
1 TBS of Poppy seeds
2 TBS honey
¼ tsp pepper (to taste)
½ tsp of salt (to taste)
Light Creamy Parmesan
½ cup light mayonnaise
¼ cup lemon juice
2 TBS finely shredded Parmesan
1 TBS teaspoons Dijon mustard
2 teaspoons Worcestershire
1 teaspoon Tabasco
1 teaspoon garlic paste

Make-ahead (and freeze) soups
Soups are a meal prepper's dream! As long as you have a large enough pot, you can make enough for the whole family and have leftovers to spare. We recommend the AMT soup and stock pots for even heating, excellent non-stick properties (important when you've added lots of meat and veggies into your soup), and easy cleaning. This one is our favourite!
Freeze extra portions for a quick last-minute dinner on busy nights—your future self will thank you. Here are a few of our favourite recipes and garnish ideas so you can customize the soup the way you like it.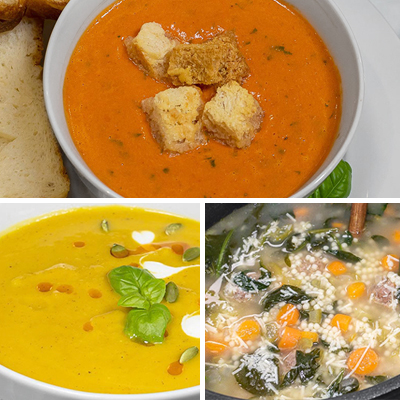 PHOTOS: NICHOLE KELLY

Easy Italian Wedding Soup
Cook time: 25 minutes | Serves: 8
Ingredients:
2 TBS butter
1 onion diced
3 celery stocks diced
4 med sized carrots diced
8 cups chicken stock
2 bay leaves
2 cups small meatballs (frozen or pre-baked)
1/2 cup of pearl pasta
6 cups of baby spinach
1 cup shredded parmesan
Salt and pepper to taste

PHOTO: NICHOLE KELLY
Directions:
1. In a large pot, at medium heat melt butter. Add onions, celery, and carrots. Stir often until softened (approx. 5 minutes).
2. Add chicken stock and bay leaves. Bring to a boil.
3. Add meatballs (if frozen, allow them to warm through before adding pasta)
4. Add pasta and cook until al dente
5. Remove bay leaves and turn off the heat. Stir in spinach.
6. Once the spinach is wilted, add parmesan. Then taste for seasoning and adjust.
Tip: Add parmesan before adding additional salt - parmesan can be salty enough on its own!

Quick Tomato Soup
Cook time: 20 minutes | Serves: 6
Ingredients:
2 TBS butter
1 medium onion diced
1 cup cooking sherry
2 14.5-ounce cans of chopped tomatoes
1 46-ounce bottle tomato juice
3 TBS sugar
2 chicken bouillon cubes
1 TBS ground black pepper
Salt to taste
¼ cup basil, fresh
¼ cup flat-leaf parsley
1 ½ cups heavy cream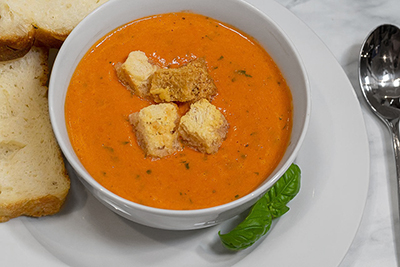 PHOTO: NICHOLE KELLY
Directions:
1. To begin, dice the onion. Melt the butter in a large pot or Dutch oven, add onion and cook until translucent (approx. 2 minutes).
2. Add cooking sherry and reduce by half (approx. 5 minutes).
3. Add in the diced tomatoes and tomato juice and stir to combine.
4. Add sugar. Add more if tomatoes are still acidic.
5. Next, add 2 chicken bouillon cubes and stir.
6. Add ground black pepper.
7. Turn off the heat.
8. Stir in the cream. Add the basil and parsley and stir.
9. Use an immersion blender to make a creamy smooth soup.

Coconut Curry Butternut Squash Soup
Prep time: 20 Minutes | Cook time: 1 hour 30 minutes | Serves: 10 people
Ingredients
2 medium butternut squashes
10 cups of salt-free chicken stock
4 stalks of celery chopped
6 carrots chopped
2 onions- diced
2 TBS butter
Bay leaf
1 can of coconut milk
2 TBS medium curry spice
1 tsp optional ground chili
1 TBS + 2tsp salt
2 tsp pepper
¼ tsp nutmeg
1 tsp cinnamon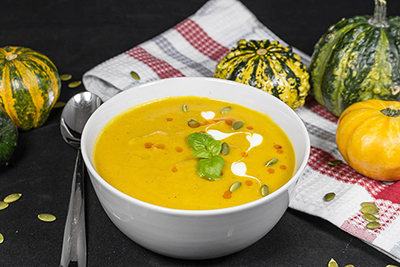 PHOTO: NICHOLE KELLY
Directions:
1. Peel then cut the squash in half, discard seeds. Quarter each half and cut into 1.5″ cubes.
2. Drizzle with olive oil and season with salt and pepper. Roast in the oven @ 350°F for 60 minutes until tender.
3. In a large stockpot, sweat onions in butter. Then add the carrots, celery, and garlic.
4. Add chicken stock and bay leaf and let simmer for 20 minutes.
5. Add squash to stockpot.
6. Simmer for 20 minutes.
7. Remove bay leaf.
8. Use an immersion blender to puree.
9. A can of coconut milk and spices. Add salt and pepper to taste.
10. Mix well and serve. Add garnishes as desired.
Garnish Options
Pumpkin seeds
Sour cream
Greek yogurt
Pomegranates
Fresh herbs – basil, thyme, parsley
Croutons
Chili oil
Feta cheese crumbles
Enjoy your simple make, yet indulgent and nourishing lunches!