Holiday Gift Giving for Foodies

Gift-giving can be a tricky proposition. For some, it's a natural skill; for others, a yearly struggle around the holidays. It's a challenge to find a gift that strikes the right balance between practicality and indulgence for everyone on your list. While we don't have any advice on the perfect toolset or newest digital gadget, if you have a foodie in your life that you're stuck for on gifts, we're here to help!
Foodies love experimenting with different cooking techniques and spending time in the kitchen. So, we suggest quality cookware that they will reach for, time and time again. For those who enjoy cooking, high-end, well-made kitchenware is something they will appreciate and use regularly, precisely what you want in a perfect gift!

Gifts for Foodies - An AMT Starter Set
We've curated a 3-item selection from AMT, and it serves as great gifts for foodies. This professional calibre brand is known for its quality—durable, solid and high-performing non-stick that, with proper use, doesn't degrade over time. AMT cookware can take on high temperatures and acidic foods without issue and go from stovetop to oven for maximum versatility. They have an extensive range of items, from stock pots to baking dishes, but these three items will cover most of what you'll need to do in the kitchen with ease.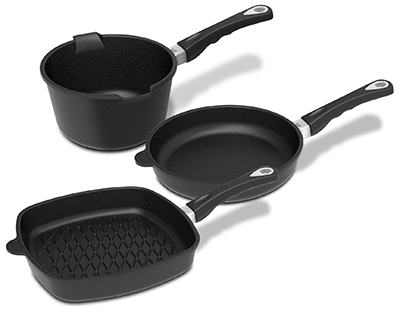 AMT Frying Pan - 28 cm
Every kitchen needs a frying pan for eggs, stir-frys and sautés, and this one can easily tackle family dinners and one-pan meals. Of course, the professional-grade non-stick makes it super easy to handle and clean. The 28 cm is an ideal standard size that will work for most families, but AMT offers both larger and smaller options with the same non-stick properties.

AMT Sauce Pot - 20 cm
With this pot, you can make quick work out of boiling, stewing, simmering—and of course, making mac and cheese! The rounded edges at the bottom make it easy to stir and scrape out (no overcooked residue in the corners). And, with two pour spouts, you'll avoid annoying spills, and you'll wonder why this isn't standard on all pots.

AMT Grill Pan
You can grill all year round with the AMT grill pan. The grilling process is unique because it allows food to retain more moisture than many other cooking methods. While the BBQ might be your go-to in warmer temperatures, you may not want to venture outside in Canadian winter conditions for a small cook job. This grill pan is a great alternative and works well for meat, vegetables, etc.— anything that could use a bit of char.

Holiday Promo on AMT Cookware
Whether you're stuck for gifts ideas or want to treat yourself, we have the perfect opportunity for you. To celebrate the holidays, we're offering 20% off all AMT products with free shipping in Canada on AMT orders over $100. This Holiday Promo is available until January 7th, 2022. Use promo code CELEBRATE when placing your order.
Choose one or give all three as holiday gifts to your favourite foodie! You can check out our full selection of AMT favourites here.